The Al-Arabi team won the Kuwaiti Crown Prince Cup for the eighth time in its history, at the expense of its Kuwaiti counterpart (Tuesday) via penalty shootout.
Kuwait qualified for the Crown Prince Cup match after beating Fahaheel 4-0, while Al-Arabi qualified after beating Salmiya 2-0.
Kuwait managed to score the goal ahead of Al-Arabi early in the second half through player Ahmed Al-Zanki, before the latter adjusted the score in the 82nd minute by Salman Al-Awadi.
The second half ended in a 1-1 draw, taking the game to extra time, which saw nothing new, before Al Arabi clinched the title with a 5-4 win on penalties.
Al-Arabi thus deprived his rival Kuwait of getting his 10th title in the championship, and the most crowned Crown Prince Cup title by difference of titles against Al-Qadisiyah, who also got the 9 titles.
Al-Arabi cemented his place at 3rd on the most capped list with 8 titles, one title behind Kuwait and Al-Qadisiyah.
Excitement and a fiery atmosphere
The match reached the height of emotion in its second half, and despite the Kuwait team advancing in the 45th minute with an Ahmed Al-Zanki missile, Al-Arabi did not give up.
And in the 75th minute of the match, the South African referee, Víctor Gómez, gave the Arab player, the Sudanese Walid Al-Shula, a red card for his violent intervention against the Kuwaiti players.
The team completed the match with 10 players, so the referee awarded Kuwait a penalty a minute later, and Al-Arabi goalkeeper Jassem Al-Awadi deftly tackled it.
And 8 minutes from the end of the match, the substitute player, Salman Al-Awadi, managed to score the equalizer for the Al-Arabi team and go to extra time, and then to the penalty shootout.
Penalty kicks are decided
And the penalty kicks were decided, and the final of the crown prince's cup was decided with Al-Arabi's victory over Kuwait 5-4.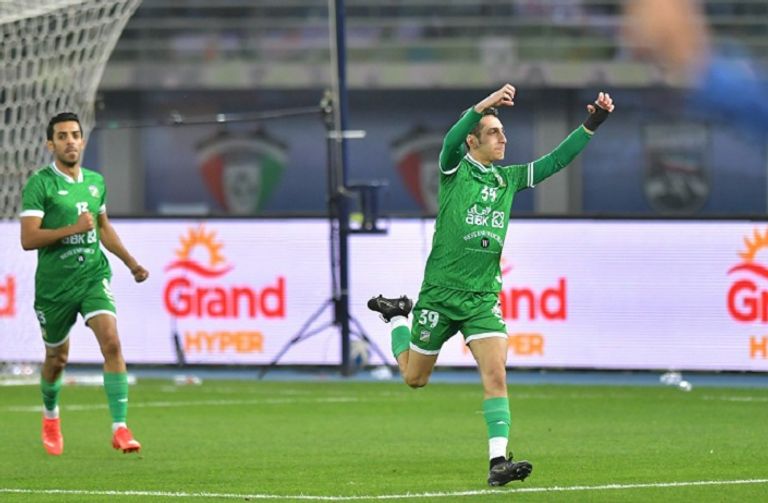 The Kuwaiti team, "the holder of the title", failed to crown the competition for the fourth consecutive time and tenth in its history, after losing to Al-Arabi.
The Kuwaiti team remained even with Al-Qadisiyah, owner of the 9 titles, and the Al-Arabi team tightened the nuts of the duo after winning the eighth title in its history.
It should be noted that the Kuwaiti team was crowned champion of the Emir Cup of Kuwait at the expense of Al-Qadisiyah 1-0, before losing the Super Cup match against Al-Arabi on penalties also after ending the original time with a score of 1 -1.