Liverpool fans took a surprising step to convince their Egyptian star Mohamed Salah to renew his contract during the next term.
Mohamed Salah's contract with Liverpool expires at the end of next season, and the English club's management tried to renew his contract for an additional period, but has not succeeded so far, despite the fact that negotiations began a long time ago. .
Some reports indicate the Egyptian star's desire for a weekly salary of 400,000 to 500,000 pounds, which the administration rejects, especially since the highest paid player is Dutchman Virgil van Dijk at 220,000 pounds.
In the midst of these disputes, Liverpool fans took a surprising step, after choosing Mohamed Salah from among the team's current stars, to paint a mural of him on the road leading to Anfield, the team's stronghold.
This came through the account of the "Liverpool Hotel", which is located on the road that leads to Anfield, where he voted last week for the player who could paint a mural on the road that leads to the club.
The hotel indicated that more than 40% of Liverpool fans voted for Mohamed Salah, which the British newspaper "Daily Star" considered a way for the fans to convince the Egyptian star to renew.
The hotel account sent a special message to Mohamed Salah, in which he assured that the team's fans appreciate the effort he made with the 'Reds' during the last period.
And the account wrote: "In a big shout out to Salah, we say, we love you and thank you for your tremendous contribution to Liverpool history."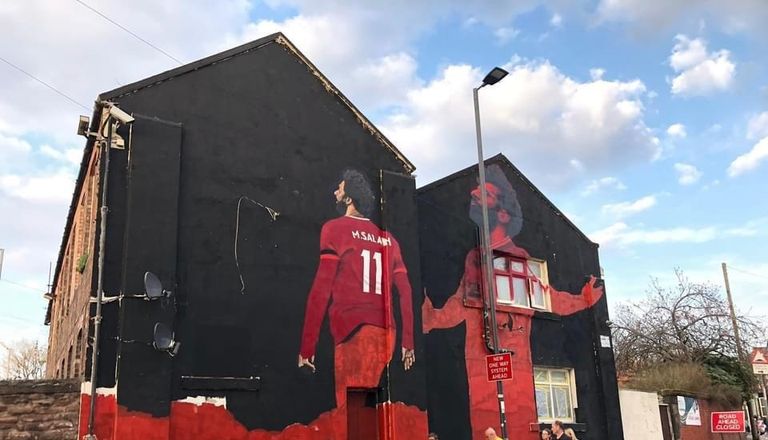 The account added: "If you have any doubts about your value to this club and this city, watch this space, we are here to celebrate you."
And the website "empireofthekop", which specializes in tracking news from Liverpool, posted a recent image of Mohamed Salah's mural, which is nearing completion, days after work began.