It is not a role in a series or a movie, it is a real role on the ground, and it has been assigned to the voices of Moroccans, to be the voice of artists in Parliament.
The results of the Moroccan elections, which took place in September last year, resulted in the victory of the actress Fátima Khair for a parliamentary seat on behalf of the National Association of Independents.
"Khair" was nominated as an agent for the regional women's list in the Anfa district of Casablanca, to beat out Nabila Mounib, who was aiming to win in the same district.
an early start
The artist "Fatima Khair" started her artistic career very early, since her first work was "The Thief of Dreams" in 1994, then "Mujeres… y mujeres" in 1997, "Yaqout" in 2001 and "Saeeda" in 2002, then "Section No. 8" in 2004, "Broken Wings" in 2004, "Rarakia" in 2009, and "Uqab" in 2012.
He also participated in several series, including "I, My Marty, and My Nation" in 1998, then "The Will" in 1998, "Khalkhal Al-Batool" in 2002, "A Rendezvous with the Unknown" in 2004 and Fares Bani Marwan in 2004.
He also participated in "Al-Hoor Al-Ain" in 2005, "Le Breakad" in 2007, "Le Breakad 2" in 2012, "The Precious" in 2014, "The Past Does Not Die in Its Seasons" 2019, and " Birth certificate" in 2020.
"Khair" began her relationship with her husband, the artist Saad Al-Tasouli, from 2001, when he called her to work with him in one of the theater plays, which she attended with several young artists at the time, but this job was unsuccessful.
A friendship developed between the two actors for three months, after which a successful marriage project developed. They had two children, Aya and Yahya, and their marriage has lasted 15 years.
Says Khair, "Theater is what brought us together in 2001, that is, 15 years ago," noting that "after our first meeting, our relationship developed, and immediately after that was engagement, and then marriage." in a short period of no more than 3 months".
Many worries

Fatima Khair continued: "We live in a very ordinary way, simple people. Immediately after entering the house, we live our life as husband and wife, far from the logic of work."
She said: "Praise God, we live in a good family environment, the most important of which is great help from parents to each of us, especially when it comes to work, and these ties characterize Moroccan society." .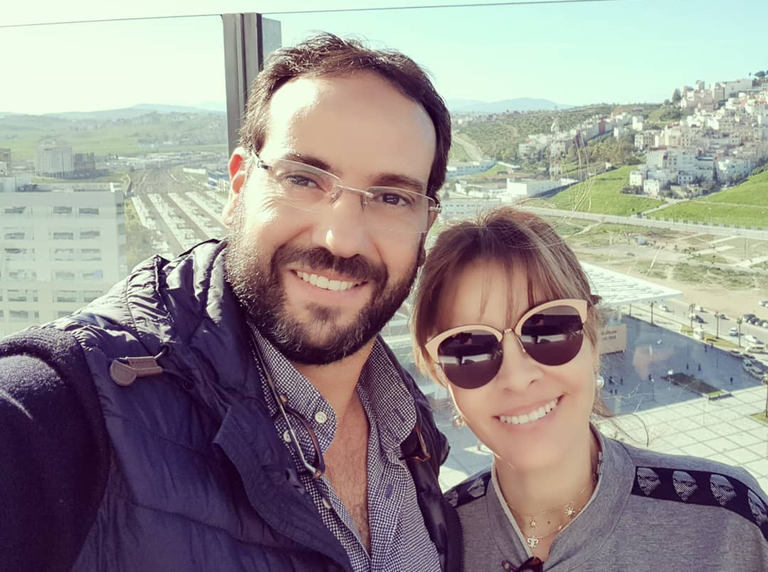 He added: "I remember at that time, when Aya was 3 years old, we had work outside the motherland, to film the series (Al-Hoor Al-Ain) directed by Najda Anzour."
He continued, "We were forced to be away from home for 3 months, so my mother and daughter traveled with me to Syria to film this series."