Foreign tourists have begun to flock to Iraq, the Arab country that has just opened its doors to the world after decades of isolation.

A year ago, many foreigners obtained entry visas upon arrival in Baghdad, who, with its important archaeological sites, some of which are on the UNESCO World Heritage List, were preparing to compete with countries such as Egypt, Syria and Jordan.
Some tourists come individually, including content creators exploring the country, posting videos on YouTube about food, population and landmarks for their tens of thousands of followers.
Others come as part of tour groups with local private companies that organize trips from Baghdad to Basra in the south and on to Mosul in the north.
With the exception of religious tourism, which suffers from the same problems, the sector is relatively new in the country and still lacks organization, financing, the necessary infrastructure and government interest, according to private business owners struggling on their own to attract tourists
Ileana, who lives in California and tours Iraq with a travel company, "On Vacation," says she has dreamed of visiting Iraq since she took art history lessons 20 years ago.
"When I found out we could get a visa on arrival, I came as soon as I could. I was excited to see everything about the Cradle of Civilizations," she says.
"The first thing I noticed is the warmth, generosity and kindness of the Iraqi people, they welcome you with a smile, they are very polite and very proud of their country," he added.
Lack of infrastructure

Despite her enthusiasm and passion for Iraqi history, Eliana, 50, who works for Google, noticed that the infrastructure was in shambles.
Babylon, which became an international coalition military base during the US invasion, still bears the scars of the past, as if unaccustomed to visitors. The site appears deserted. Weeds rise from some landslides and rickety benches for visitors to sit on.
On the other side of the site, construction and maintenance work, workers with yellow helmets and phosphorescent jackets, prepare iron and cement blocks. Garbage is piled up everywhere, wild weeds and thorns have perched on some of the old city walls.
American Justin Gonzalez, 35, speaks with a smile about his experience in Iraq. "On my government website there is a warning against going to Iraq because of the risk of kidnapping and violence, but I haven't seen any of that," he says.
In the 1990s, during the time of the siege and international sanctions, Iraqis were completely isolated from the world, and this isolation was not broken after the year 2003 after the US invasion and the overthrow of Saddam Hussein's regime. it was followed by a series of wars that limited the image of Iraq in the world to scenes of destruction.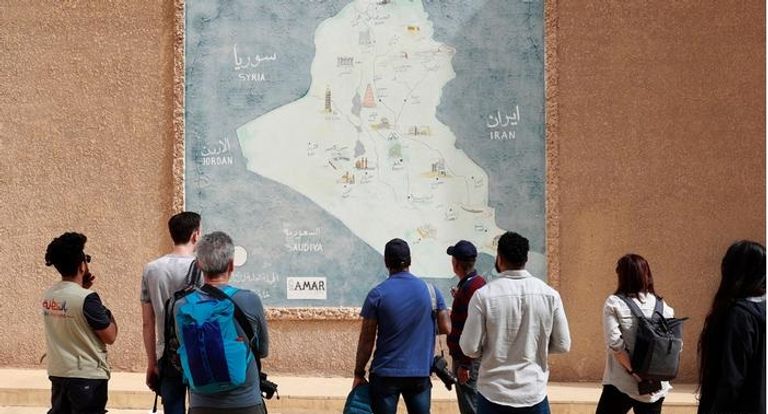 Many Western governments still officially warn their citizens against traveling to Iraq, such as the United States and France, whose State Department website refers to a "terrorism risk" and a "kidnapping risk."
However, Baghdad is looking to get its tourism sector off the ground despite the challenge of a lack of infrastructure. "For the infrastructure to develop, the private sector must invest in hotels, services and buses," says Ali Makhzoumi, owner of Holiday Company, which has been organizing trips for foreigners for the past eight months. His company receives 30 to 40 tourists a month, who tour the country for about 10 days.
The discovery of Baghdad

In 2021, more than 107,000 tourists entered Iraq, including more than 300 from France, Norway, Britain, Australia, the United States and Turkey, among others, compared with about 30,000 in 2020, according to figures from the government's tourism authority. .
Iraq is gradually restoring its archaeological sites. Al-Mutanabi Street in Baghdad was renovated at the initiative of private banks. As for the parallel street, Al-Rasheed Street, which is of equal historical importance in the heart of the old city, is made of rubble and debris.
Baghdad's old houses built with Iraqi yellow bricks are mostly dilapidated and prone to collapse. The National Museum in Baghdad also opened its doors in March after being closed for three years, while Iraq intends to open more than one new museum.
The ancient city of Ur, located in southern Iraq, where Pope Francis prayed last year, was covered by a restoration campaign just for the occasion of the visit. In Nineveh and its center, Mosul, ISIS has destroyed many important archaeological sites.
However, the Tourism Authority seeks to "rehabilitate archaeological sites for tourism", such as establishing rest areas, among other goals.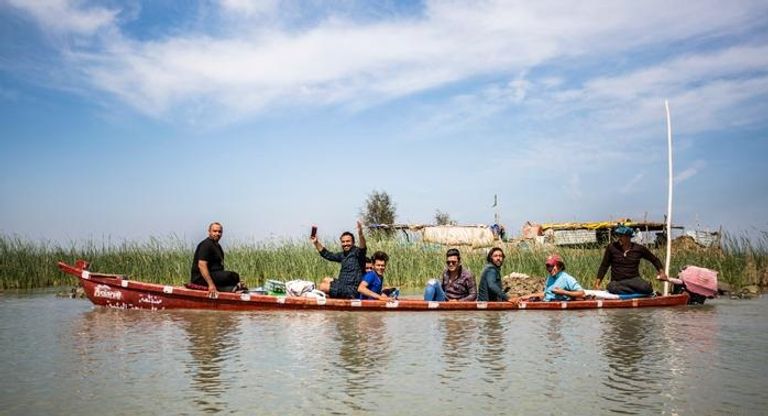 Despite this, the lack of infrastructure, services and organization remains an obstacle for Aya Saleh and her husband Ahmed, who launched their company, "Safari", about a year ago. "They opened visas on arrival but kept everything else complicated," says Aya.
He added: "Half of the tourist trip ends up on the road and at checkpoints. Although we have the necessary approvals, but there is no difference, the same tiredness and the same waiting… There is no one to complain to."
On YouTube, the titles vary: "The best pizza in Iraq", "An American boy meets an Iraqi girl", "Baghdad discovery, how dangerous is it?", "Emma in Al-Zawra park".
Scottish Emma, ​​​​one of the many content creators whose favorite destination has become Iraq, with more than 73,000 followers on YouTube. She visited Iraq twice, and during her last visit she spent two consecutive months in the country, from Baghdad to Fallujah, Ramadi and Basra.
He speaks passionately about his experience: "He thinks that after all they've been through, after decades of isolation and wars, they will be a miserable people… but they are kind and generous to strangers."