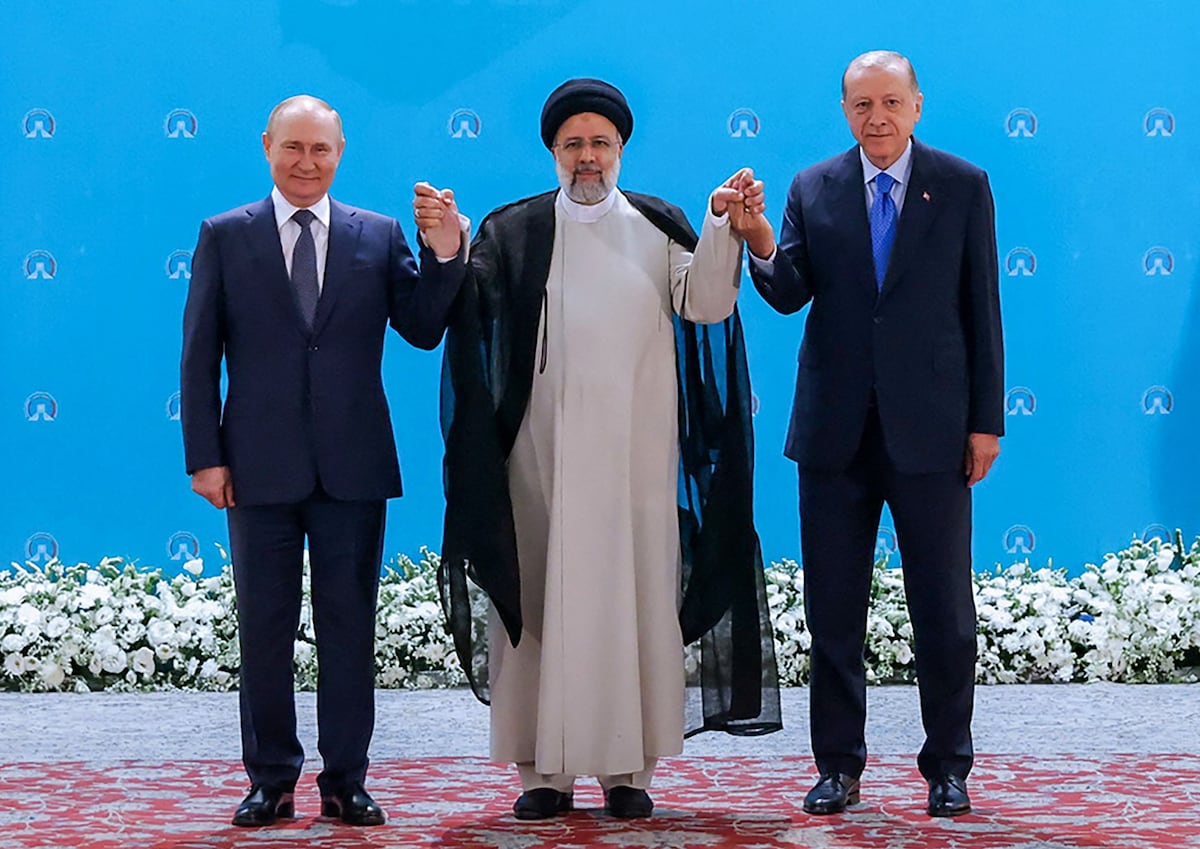 [ad_1]
Vladimir Putin and Recep Tayyip Erdogan on Tuesday held their first face-to-face meeting in Tehran since the Kremlin sent troops to Ukraine on February 24. Both leaders held a tripartite meeting with Iranian President Ebrahim Raisi, where they confirmed progress on negotiations to unblock grain transit through the Black Sea. In a statement released by the three parties, "they reaffirmed their determination to continue their ongoing cooperation to finally liquidate terrorist individuals, groups, projects and entities and to ensure the safety of civilians and their infrastructure in accordance with international law." it is impossible to expect Turkey to remain inactive without reacting," Erdogan warned of the Syrian-Kurdish YPG militias in northern Syria.
Despite the geopolitical disputes between Turkey and Russia, the good harmony was felt across half the planet, from Libya to Central Asia, through Syria, the Caucasus and Ukraine. According to the Kremlin, they did not address the delivery of Turkish drones to Kyiv. "Thanks to your mediation, we have made progress. Not all problems have been solved yet, but the fact that there is movement is good," Putin told Erdogan at his bilateral meeting.
At a later meeting with Russian journalists, Putin shared more details from his conversation with Erdogan about the blockade of Ukrainian grain. He insisted that the West must not only lift its sanctions on Russian fertilizers, "which nobody has opposed, not even the Americans," but also on its grain exports, of which it has promised up to 30 million tons.
Ankara, the recalcitrant NATO member, was built in these months as the great bridge with Moscow for the West. Both the unsuccessful peace negotiations with Kyiv, which have been deadlocked since the end of March, and the talks on allowing grain transit through the Black Sea were held in Istanbul.
Iran's Supreme Leader Ali Khamenei, who supported the invasion of Ukraine, also spoke about the conflict. "If NATO hadn't been stopped, after a while [Occidente] waged a war under the pretext of Crimea. The West doesn't want a strong Russia," Khamenei said, according to Iran's IRNA news agency.
The first international summit organized by the ultra-conservative Raisi since taking office last year could not be more timely. It is set days after US President Joe Biden toured the Middle East, where he visited Tehran's other two great enemies: Israel and Saudi Arabia.
Subscribe to EL PAÍS to follow all the news and read without limits.
Subscribe to
The leaders of Turkey, Iran and Russia had much to discuss. The three form the Astana Process, protected by UN Security Council Resolution 2254, to seek a way out of the more than 11-year war in Syria. However, Ankara wants to expand its territory in Syrian Kurdistan and supports some of the rebels in the fight against Damascus, while Tehran and Moscow support the regime of Bashar al-Assad.
Print
Both Putin and Raisi pressured Turkey to oppose the United States in Syria. According to the Iranian leader, all three parties agreed that Washington must end its hold on the conflict. The Russian president also stated that instability in areas not controlled by Assad "was greatly facilitated by the destructive line of Western countries led by the United States."
In the joint statement, the three leaders demonstrate "their unwavering commitment to the sovereignty, independence, unity and territorial integrity of the Syrian Arab Republic and to the purposes and principles of the UN Charter." They also denounced an "increase in the activities of terrorist groups and their allies, regardless of their names, in different areas of Syria" and stressed the importance of implementing the agreements on this point "in the northern part of the country".
Erdogan reiterated his intention to launch a new offensive against the Kurdish population in northern Syria. "It is impossible to expect Turkey to remain inactive without reacting while this terrorist organization continues its separatist agenda," he said, referring to the Syrian-Kurdish YPG militias. "I hear you, dear friends, you understand Turkey's legitimate security concerns. Thank you, but words alone don't heal wounds," he added, urging the Kurds to leave a space 30 kilometers from the Turkish border.
Instead, Khamenei warned of the risks this would entail: "Maintaining Syria's territorial integrity is very important and a military attack in northern Syria would definitely harm Turkey, Syria and the entire region and benefit the terrorists." Putin, for his part pointed out that this area must remain under El Asad's control because "it must be returned to Syria."
The Turkish government wants to create what it euphemistically calls a "security zone" in Syrian Kurdistan. However, Damascus requires that you respect its sovereignty. The Ambassador of the Arab country in Russia, Riyadh Haddad, in an interview with the TASS agency, emphasized that this speech contradicts his position as a guarantor in the Astana format. "Erdogan is using current international events to promote a more hostile policy towards Syria," he said.
According to Erdogan, the short-term goal is for a million Syrians in Turkey to return to their country. "The voluntary, safe and honorable return of Syrian refugees to their countries is one of the important items on the agenda of the Astana Process," he stressed. The "voluntary" return of millions of Syrians who fled during the war and are now in a less friendly Turkey is a priority for Ankara. Also an argument to justify a new offensive along with the elimination of what defines them as terrorist groups.
Erdogan's warning of the need for an attack came as no surprise to either Putin or Raisi. Both oppose a military operation whose precedent in 2018 not only resulted in the deaths of dozens of civilians and hundreds of thousands displaced, but also included a security pact with the Kurdish militias due to Trump's withdrawal of US support at the time. It is therefore not surprising that neither Russia nor Iran see this positively. In recent weeks, the Syrian Kurds have asked Moscow and Tehran for support should it finally come about.
high-level summit
In addition to talks between leaders, Tehran also hosted a high-level Iran-Turkey summit in the morning, attended by the Eurasian country's ministers of foreign affairs, defense, finance, trade, energy, industry and sports. The delegations agreed to try to quadruple their trading turnover from $7,500 to $30,000 million.
Turkey's intelligence chief was also present to address counter-terrorism-related issues. "Whatever its name, we emphasize that any group that endangers citizens must be fought," Raisi said. Relations between Iran and Turkey are not at their best in recent months due to Ankara's rapprochement with Israel and Saudi Arabia. Visits by delegations from these countries this summer did not sit well with Tehran.
In July, Ankara staged a rapprochement with Saudi Arabia – in the presence of Mohamed Bin Salmán – that included deals on energy, economy and security. The move has been understood as a detente in the long history of disagreements between the two countries, beginning with Erdogan's condemnation of the crown prince – without naming him directly – for the 2018 killing of Saudi journalist Jamal Khashoggi at the Saudi consulate in Istanbul.
While relations were strained four years ago, Turkey settled the murder case in court a few months ago and moved it to Riyadh. Today, both countries have trade deals that can help Turkey's struggling economy.
Follow all international information in Facebook Y Twitteror in our weekly newsletter.
[ad_2]
Source elpais.com