Around 7 million and 35,000 people benefit from the Emirati Red Crescent Ramadan programs in six Yemeni governorates.
The Emirates Red Crescent programs include the governorates of Shabwa, Hadramawt, Taiz, Hodeidah, Aden and the island of Socotra, where 6,870,000 people benefit from Ramadan lunch and breakfast for the person who fasts.
While 165,000 people benefit from Eid attire, in compliance with the directives of Sheikh Mohammed bin Zayed Al Nahyan, Crown Prince of Abu Dhabi and Deputy Supreme Commander of the UAE Armed Forces, and the follow-up of Sheikh Hamdan bin Zayed Al Nahyan, the ruler's representative in the Al Dhafra region, head of the Emirates Red Crescent Authority.
The directives of the wise leadership are part of the humanitarian and development efforts undertaken by the United Arab Emirates to improve life and alleviate suffering in the Yemeni arena. They also come to meet the needs of the brothers in Yemen during the blessed month of Ramadan, and to improve areas of food security, in light of the current conditions in Yemen.
Dr. Muhammad Ateeq Al-Falahi, Secretary General of the Red Crescent Authority, said Sheikh Mohammed bin Zayed Al Nahyan's directives reflect the importance of the humanitarian situation in Yemen and his position on the priorities of the leadership of the United Arab Emirates, which has taken a unique approach in giving to Yemen, based on its humanitarian responsibility towards brothers there.
He added that Sheikh Mohammed bin Zayed Al Nahyan's directives enhance the Emirati Red Crescent's development and humanitarian role in Yemen and enable it to provide the best services to Yemeni brothers in all fields, support them and work to improve their conditions, noting that the authority was able, thanks to its support for its programs, to achieve humanitarian achievements and many developments in the Yemeni arena.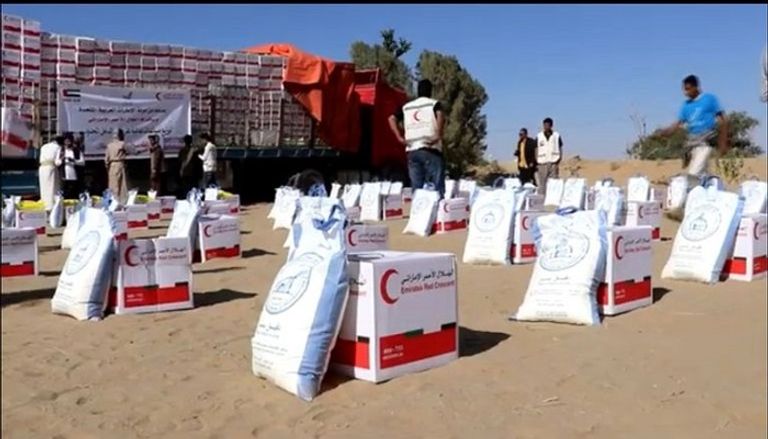 Al-Falahi said the authority immediately began implementing Sheikh Mohammed bin Zayed Al Nahyan's directives to provide Ramadan requirements and deliver them to targets in their areas of residence in the concerned governorates well in advance of the holy month.
The Secretary General of the Red Crescent emphasized that the authority continues to strengthen its efforts and initiatives in Yemen, by adopting more projects and programs that serve broad sectors of the brotherly Yemeni people, contribute to achieving the desired development and bring life back to what it was before.
It should be noted that the Red Crescent Ramadan Meer includes basic and necessary foods that meet the needs of beneficiary families throughout the holy month of Ramadan.