Electoral confusion continues to dominate the Lebanese Sunni scene, despite the May 15 parliamentary elections approaching.
More than two months after the main representative of the Sunni sect, the Future Movement, announced, through its president, Saad Hariri, the suspension of his political work in Lebanon and his failure to stand in the next parliamentary elections, this street could not form an alternative leadership to lead this street that extends through an area of ​​Lebanon in the elections, at least, amid serious fears that Hezbollah will enter this environment, taking advantage of the dire economic situation that the country suffers.
The Sunnis in Lebanon constitute the largest electoral force in Lebanon, as their number reached more than one million 81 thousand five hundred voters, with a slight difference from the Shiite sect whose voters number one million 73 thousand six hundred, according to the lists of disqualification issued by the Lebanese Ministry of the Interior, of some three million 746 thousand voters.
What also increased the state of fragmentation was the reluctance of several Sunni leaders to stand for election, such as President Tammam Salam and Prime Minister Najib Mikati.
Former Prime Minister Fouad Siniora tried to play an integral role as he is close to Hariri and has his clear opposition to Hezbollah, but so far he has not achieved reunification, and was only able to work on the composition of two electoral lists in Tripoli and Beirut, and was pleased with the support of some candidates close to Hariri.
In this context, both the former minister Ashraf Rifi and the resigned vice-president of the Future Movement, Mustafa Alloush, express their desire to obtain the greatest number of Sunni representatives in the Lebanese Parliament and open the way to all Hezbollah attempts to monopolize them. , especially after former Prime Minister Saad Hariri's announcement of his refusal to work in politics.
Both Alloush and Rifi are running for election on two separate lists in Tripoli, also competing with a third list supported by Prime Minister Najib Mikati, in contrast to a fourth list that includes Hezbollah allies, which itself seeks obtain the largest number of representatives in the north, knowing that he owns the Consultative Meeting bloc, which includes deputies from the Sunni sect affiliated with him.
Alloush confirmed to "Al-Ain News" that former Prime Minister Fouad Siniora is not looking to be the leader of the year after Hariri.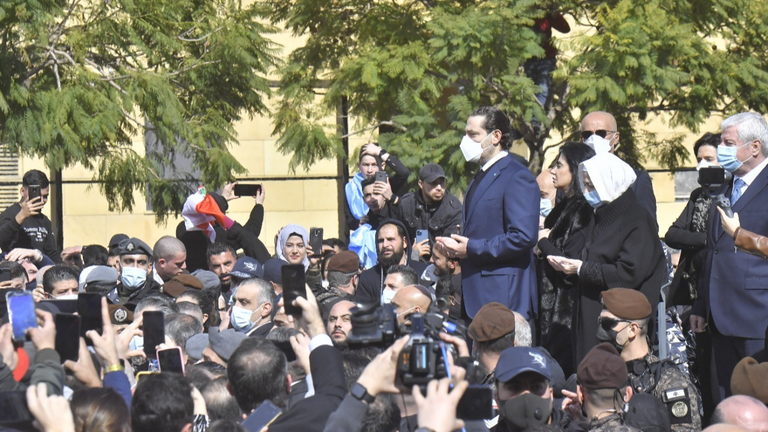 Alloush says, "Siniora said earlier that she seeks to save Hariri's back and not inherit anyone," while Rifi tells "Al-Ain News" that the next stage will see a plurality of leadership in the Sunni community, after who was for the past years confined to one person, (Saad) Hariri, who was an apostate. Any mistake he makes in the sect as a whole.
Rifi added: "No one can be unique in leadership, especially since leadership unity requires an exceptional personality, as was the case with the late Prime Minister Rafik Hariri."
As Sunni figures, most of whom were in the "Future Movement", are forming lists to wage the electoral battle, Alloush believes joining their ranks if they do make it to Parliament requires an object lesson, while stressing that this bloc , if he succeeds, he can only stay "out of political satire."
Alloush refuses to be betrayed by the supporters of "Al-Mustaqbal", as well as other personalities who chose to participate in the electoral battle.
"The effort is focused on not turning against the future and Hariri, and working so that the killers of (Rafik) Hariri do not leave the scene," (referring to Hezbollah), he said, adding: "Our effort is focused in these goals and working to show that there is a new, unconventional soul, and we begin to have good impressions, which is What will come out in the polls?