An Egyptian human rights organization said the Russian military operation in Ukraine showed that xenophobia from non-Europeans is still prevalent.
In Eastern Europe, he noted that Arabs and Africans are subject to "racial discrimination."
The Forum for Dialogue on Development and Human Rights has issued a report documenting cases of discrimination against Arabs and Africans during mass migration from Ukraine following the military operation that began on February 24, according to the Egyptian Al-Ahram Gate.
The report emphasized that xenophobia and racism are condemned by international humanitarian law and all human rights conventions.
The military operation forced some 4 million people of different nationalities, including Arabs and Africans, to seek refuge in Ukraine's neighboring countries.
However, cases of discrimination have been reported, especially against people of African and Arab descent, as they have reportedly been prevented from crossing the border into Ukraine.
"All people of Arab or African descent have been prevented from getting food and drink until Ukrainian citizens receive them first," the report says.
He noted that the same thing was being repeated at train stations, where Arabs and Africans were prevented "from boarding trains and forced to cross the street on foot, and were told by Ukrainian soldiers to Ukrainians first."
The report by the Egyptian human rights organization accused Ukrainian and Polish border guards of adopting a discriminatory policy against non-Europeans by obstructing the crossing of Africans while allowing Ukrainians to cross and providing them with food and first aid.
While European countries welcome Ukrainian refugees and provide them with official and safe transit routes, seven asylum seekers of non-European origin died after their boat sank in the Mediterranean off the coast of Greece, and their calls for help went unanswered.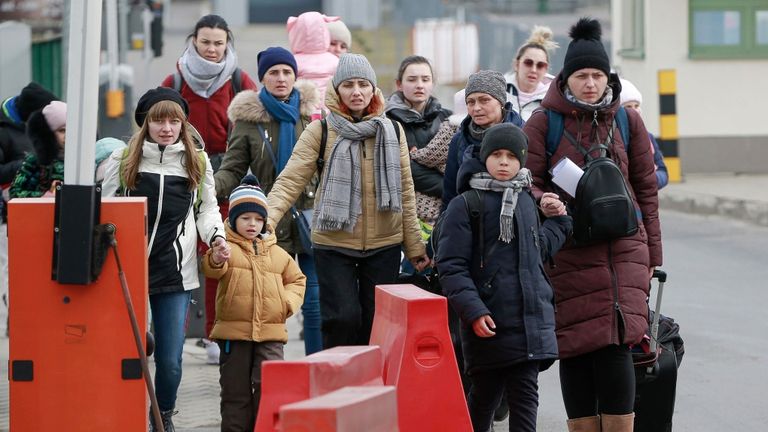 The organization called for the application of international humanitarian law and the need to protect civilians during armed conflicts and provide them with the necessary protection, regardless of their nationality, and not prevent them from traveling or returning to their country.
On February 24, Russian President Vladimir Putin announced the launch of a special military operation in Donbass, in southeastern Ukraine, following the official request of the Donetsk and Lugansk republics for Russian support to confront the Ukrainian army. .
Putin stressed that Russia does not plan to occupy Ukrainian lands, explaining that Russia's goal is to protect people who, for eight years, have been subjected to abuse and genocide by the kyiv regime.