With the grain shortage crisis deepening and grain prices, especially wheat, on the world market rising, Ethiopia is turning the subsidy into an opportunity to realize an old dream. What is it?
The Russo-Ukrainian war, which has entered its third week, casts a shadow over the economic situation in general and the rise in wheat prices in particular, as the two countries are major players in the grain market.
The war between Russia and Ukraine has already pushed up global wheat prices, rising 7% on the Chicago Mercantile Exchange in recent weeks, while in Europe, wheat futures contracts are up almost 6%.
It is quite natural that the Russo-Ukrainian war will have direct effects on wheat production and exports, as its exports account for about 28% of total world wheat exports in 2021, according to US Department of Agriculture statistics. USA published in February 2022.
Tireless efforts to increase wheat production

Faced with this gap and the challenges that are increasing day by day in the wheat markets, many countries, especially in Africa, are seriously seeking to secure their supply of this important food crop, while other countries are considering taking advantage of its advantages. capabilities by intensifying their efforts to obtain greater productivity from this crop.
Ethiopia, a country that enjoys an important location in the east of the African continent, and depends mainly on agriculture, seeks to take advantage of its potential to increase the wheat harvest, and is making the recent crisis an opportunity to intensify its efforts in the cultivation wheat, which has recently started.
Abi Ahmed .. War increases the importance of wheat

"Stepping up our efforts is more important now that world wheat supplies are tight," Ethiopian Prime Minister Abiy Ahmed said, stressing the need to boost wheat production and productivity.
"We need to intensify our efforts in wheat cultivation and production, especially as the global wheat shortage has become a major concern," he added.
"Since we embarked on irrigated summer wheat productivity by strengthening cluster cropping methods, our farmers have reaped larger crops and we will continue to receive support through various efforts," said Abi Ahmed, who emphasized that import substitution remains a goal in the future. .
Abi Ahmed's remarks on the importance of increasing wheat productivity come at a time when the world market is experiencing declining supplies as a result of poor weather conditions that have affected crop productivity for many producers, led by the countries of North America and Europe.
Abi Ahmed, during his speech at the first general conference of his "Prosperity" party, said that his country will be among the top five African countries in wheat production in 2035, attributing this to Ethiopia's agricultural plan and strategies that follows, in addition to the availability of young labor.
He continued: "We will meet at the next party general conference, and Ethiopia has stopped importing wheat from abroad, which will actually be achieved," adding that during his visits to agricultural projects, he confirmed that the production of wheat and other grains increased significantly by hundreds of quintals.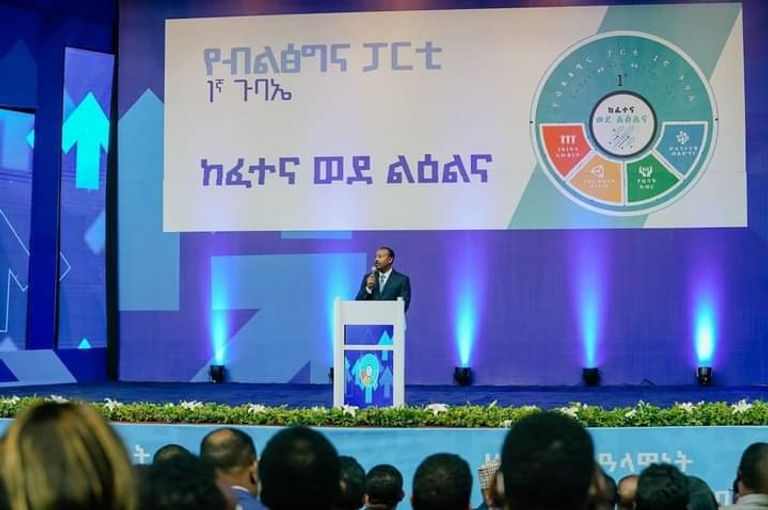 Abi Ahmed attributed the increase in wheat productivity to the optimal use of pump technology, machines and all modern agricultural equipment.
He said that the agricultural indicators in the agricultural production of wheat indicate an increase in production, highlighting a good water management plan in all aspects, providing more mechanisms and using cloud and cloud technology.
self sufficiency

Ethiopia is on track to make a major breakthrough by cutting wheat imports in half, thanks to a well-thought-out plan to achieve self-sufficiency in the necessary food commodity.
The government plans to improve agricultural performance to be self-sufficient in terms of food, intensifying its efforts in the field of construction of large-scale irrigation projects and giving required attention to irrigation development.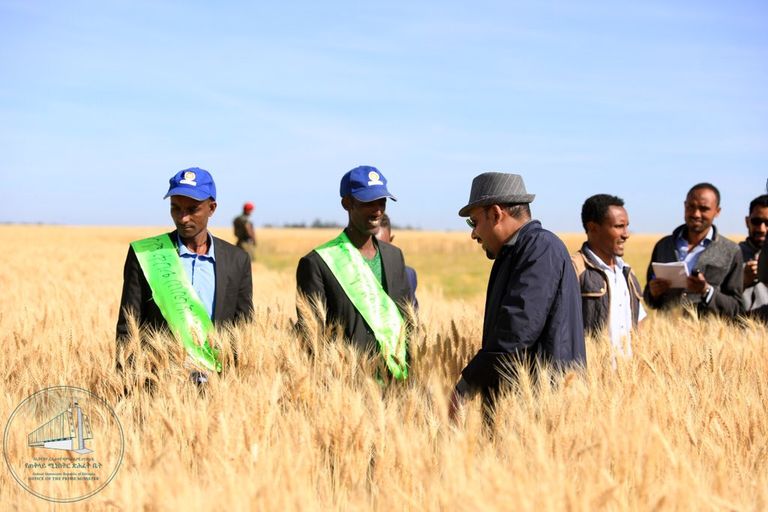 At the end of last year, the government revealed its plan to plant 400,000 hectares of wheat with the aim of obtaining 16 million kantars, after it managed to meet 64% of the goal, highlighting that 256,000 hectares were planted, that is, 64% of the plan developed for this purpose.
This is part of the government's plan for self-sufficiency in the necessary food product and its guidance to make a major achievement of cutting wheat imports in half through a well-studied plan.
The Ethiopian Ministry of Agriculture had stated that the areas planted under irrigation for this year will cut wheat imports by more than half.
According to statements by previous government officials, the government has set a budget of 9.8 billion birr to implement around 17 large and medium-sized agricultural projects under its food security plan, including 12 projects where work is progressing well.
Ethiopian Agriculture Minister Omar Hussein said the expected harvest from the 300,000-hectare crop this year will reach 10 million quintals of wheat, noting that his country imports 17 million quintals of wheat annually.
The minister stressed that the government is making great efforts to completely stop importing wheat within 3 to 5 years, saying: Replacing imported wheat by promoting irrigated agriculture saves foreign exchange and creates a great incentive for farmers and herders. .
Ethiopian Prime Minister Abiy Ahmed's call to intensify wheat cultivation in his country comes at a time when the Russo-Ukrainian war, which broke out on Thursday, February 24, is accelerating and has entered its third week. at a time when Western control over Moscow. it is tightening with the imposition of expanded economic sanctions.
Despite the holding of rounds of talks between the Russian and Ukrainian sides in Belarus over the past week, the crisis has stalled without any significant progress, in light of the worsening humanitarian situation with the increasing number of Ukrainian refugees to more than two million.