The city of Shenzhen, the tech hub of southern China, on Friday ordered the partial lifting of restrictions imposed to combat the coronavirus.
The decision of the mayor of the city of 17.5 million inhabitants, which is located at the gates of Hong Kong, comes at a time when Chinese President Xi Jinping called, this Thursday, to work to "mitigate" the impact of anti-Covid measures on the national economy.
This came at a time when China's National Health Committee announced on Friday that the mainland recorded 2,416 new confirmed cases of the Corona virus on Thursday, compared with 1,317 the day before.
The committee said 2,388 of the new infections were locally transmitted, up from 1,226 a day earlier.
China recorded 1,904 new infections that showed no symptoms, up from 1,310 the day before, and China does not classify these cases as confirmed infections.
Thus, the Chinese mainland had registered, until this Thursday, 126,234 confirmed cases, and no new deaths were registered, so the figure remained constant at 4,636.
And the southern city of Shenzhen, which includes thousands of big tech factories, imposed a full stone on Sunday after Covid cases linked to the ongoing outbreak of the virus in Hong Kong were discovered.
But the City Council announced, this Thursday, that it is now possible to resume public transport, as well as the work of administrations and economic activity in five areas of the city.
The city council said the transmission of the virus has stopped in these five regions, including the Yantian district, where one of the world's largest ports is located.
The resort to lifting health restrictions in less than a week shows the authorities' concern about economic activity, two years after they adopted the "Covid zero" strategy.
All of China is currently experiencing the worst COVID-19 outbreak since the first wave, which was detected in late 2019.
The Chinese president ordered this Thursday to continue with the strict "covid zero" strategy that allowed China to limit the number of deaths in the country to less than 5,000 since the beginning of the pandemic.
"We must always continue to put people and their lives first, adhere to scientific rigor and zero dynamic (Covid) policy, and end the pandemic as soon as possible," the Chinese president said on Thursday, according to the official. closed circuit television network.
During a meeting of senior Chinese leaders, he stressed that his country should "raise the level of scientifically accurate prevention and control and continue to improve disease control measures."
Xi called for "strengthening key technology sectors such as vaccination, rapid testing and drug development research."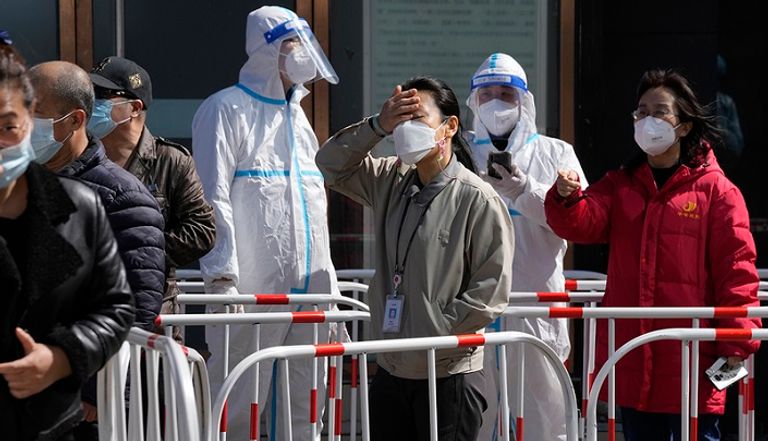 He pointed to the need to increase "prevention and control guidelines" for the most affected areas and "quickly control local groups where the virus is spreading."
He also highlighted the need to reinforce prevention measures at entry points, given the high number of infections among people from abroad.