A Russian missile destroys a train belonging to the humanitarian organization World Central Kitchen, owned by Spanish chef José Andrés, in eastern Ukraine – Twitter @WCKITCHEN
Today's news from the war between Ukraine and Russia
MADRID, June 15 (EUROPA PRESS) –
Spanish chef José Andrés denounced Wednesday that a Russian missile destroyed the food train run by the humanitarian organization Word Central Kitchen (WCK) on Wednesday, which was in eastern Ukraine to help civilians suffering from the war.
In a message on his Twitter profile, the chef clarified that there were no injuries and that the incident only affected one carriage full of food, but that whatever was left in the rest of the carriages can be recovered.
This is 600 meters from the passenger station, similar to the Kramatorsk missile attack. They destroyed 34 pallets of WCK groceries but I'm thankful no one was hurt. Look at the carnage inflicted on the people of Ukraine every day. Rails are repaired and trains keep running! 💪🇺🇦 https://t.co/zwjbMQw9of pic.twitter.com/4Wrdw01gqq

— Nate Mook (@natemook) June 15, 2022
"This will not stop our amazing WCK teams in Ukraine who will continue to feed the people," warned José Andrés, while lamenting that the Russians are "hard" attacking Ukraine's railway infrastructure.
"A Russian missile blew up our WCKitchen food train in eastern Ukraine… Luckily no one was hurt… but now they're hitting the trains' infrastructure hard! Only one food truck was completely lost, the rest will. That won't stop us: our amazing WCK Ukrainian teams will continue to feed people!" wrote José Andrés alongside a photo showing the car passing through the rocket was destroyed.
677849.1.260.149.20220615190218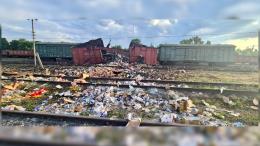 Source europapress.es