"A real mess." This is how Carmen Vizoso, 25, describes the situation, who waited in line for more than an hour for the concert that the artist Marc Anthony is celebrating on Tuesday evening at the Ifema exhibition center in Madrid. "Nobody gave us an explanation," he says on the phone. "They divided us into sectors. I'm in Sector C. We had to stop to make sure nobody ran us over. Nobody from the organization told us anything. No one. The organization is abysmal." She is not the only assistant who has shown her grievances. Hundreds and hundreds of people have been stranded in the area surrounding the event for more than 45 minutes. A spokesman for the exhibition institution, which is not the organizer of the event, admits EL PAÍS "failures" in the organization.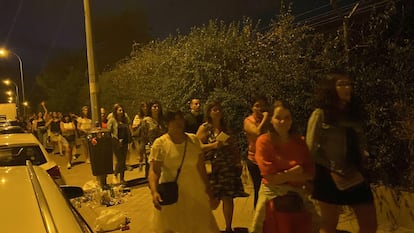 "I arrived early," says Montse Caballé, 32, on the phone. "We lined up at nine o'clock at night. We also had Gate C. The organization was fatal. We are on the road." A testimony that Verónica Gómez, 51, also confirms. "I come from Cantabria to see the concert. We arrived on time. They told us to follow the line. We are three kilometers drove in circles. The police had to intervene. The concert has started and thousands of people are queuing here. Nobody tells us anything. There is nobody here. It is a concert that moves thousands of people."
The concert has started 30 minutes late to try to solve the problems at the entrance, according to Ifema sources. After launch, it took mainly Sector C to enter more than 30 minutes. Ifema is also trending on social networks. For much of the concert, the latter's sectors didn't stop singing, according to several attendees: "Dizzy, dizzy."
Subscribe here to our daily newsletter about Madrid.
What affects most is what happens next. Subscribe so you don't miss anything.
Subscribe to
Source elpais.com