There are places where you feel like you've been before, even if you're entering them for the first time. At Casa Maragato, a traditional family business in front of the train station of Busdongo, a small town in León with only 17 inhabitants, next to the road that leads to the port of Pajares, it happens as soon as you enter. Going in and ordering jerky is a Déjà-vu insured.
The walls full of objects, the cured meats hanging behind the counter, the cheese, the wine jugs and the affection with which Tere del Campo and Juan Jiménez serve while slicing sausages form a place of authenticity that has become a must for those enter or leave the Asturias via the N-630 road.
Juan calls every customer "kids" and never thought about devoting himself to the restoration, but he fell in love with Tere – descendant of the founders of Casa Maragato – he accompanied her for a summer to help his family and stayed. "When I wanted to realize it, 35 years had passed," he says jokingly.
Fifth generation at the helm
Tere's great-great-grandfather was a Maragato mule from Murias de Rechivaldo (Astorga) who settled in Busdongo at the end of the 19th century. "We don't know what year Casa Maragato was inaugurated, but there is a document of transfer from 1881. It used to be an inn with a grocery store and my great-great-grandfather converted the lining into a wine store." says Tere. From there she passed from generation to generation to her father and for several years she has been the first woman in the family to run the business. He was even born within these four walls. "My parents were working when my mother went into labor and they didn't have time to go to the hospital," she says.
Since then his life Maragato house. He grew up here and helped for many years to make the house sausage that was later sold. "There was a time when you couldn't sell it unless you had a factory. Then my father started to choose the ones he liked the most. He brought the cured meat from Astorga or the wild boar chorizo ​​​​​​from the Esla area and then we labeled it ourselves," he explains. Some of these providers remain loyal to Casa Maragato and others have changed over time. "Now we have cheeses from different places like Zamora, Valladolid, Madrid or goat cheese that is brought to us from Cáceres." She has also processed wine of the Prieto Picudo de León variety and other artisanal products such as honey, quince and yoghurt. But the queen is still the jerky. "We always sold sausages. When many other grocers like us decided to convert their premises into modern bars in the 1980s, my father had the great idea of ​​keeping the shop and the bar as they were. It was a success, because now the claim is that it's the same as always. Sanidad demanded that he serve on trays and remove the brown paper but he being very stubborn bought trays and put the paper on them as we continue to do. We won this war," he says.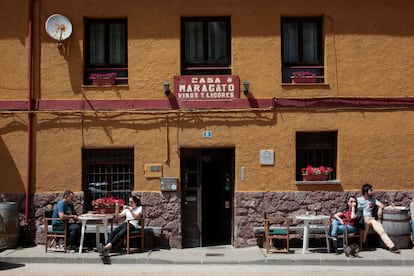 From the time it opens at 10am until it closes 12 hours later, the flow of people doesn't stop. "We have 17 neighbors in the city, so we live off travelers passing through. Most always ask for the same thing: cecina, chorizo ​​​​​​and cheese," says Tere. Some ask him about Amancio Ortega, the founder of the textile empire Inditex. "We know he was born here, but shortly after his family moved and had no connection to the city. We found out when Inditex appeared in the media," he says.
There is no kitchen here. They cut, weigh and serve everything in front of the customer the way Tere has seen her whole life. "The physical therapist tells me to put on a clipper, but if we don't do it with a knife, we lose our essence," he says. "It's nice because a lot of people tell us they feel like they're with their grandmother and it's hard for them to leave," he adds. Not only because of the products they have, but also because this couple knows how to bond with strangers in seconds. The Arena Museum, which they set up in the room next to the counter, tells about this. In this room, where you can also eat, they store more than a thousand bottles of sand from many parts of the world. "It started with a client who brought us from a beach in Dénia to make us jealous of where he had been. Now they bring them to us from very distant places and we are very happy that people remember us, call us from the coast and ask us if we have a place where they are from," says Tere.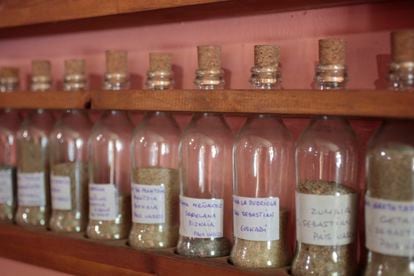 It's easy to enter Casa Maragato, but difficult to find the time to leave. Sometimes happiness lies only in sharing freshly cut sausage, served with love and washed down with a little humor.
Maragato house. Asturias Motorway, 6. Busdongo (León). Telephone: 987 59 81 27
reduced by 50 percent
Exclusive content for subscribers
read without limits
Source elpais.com