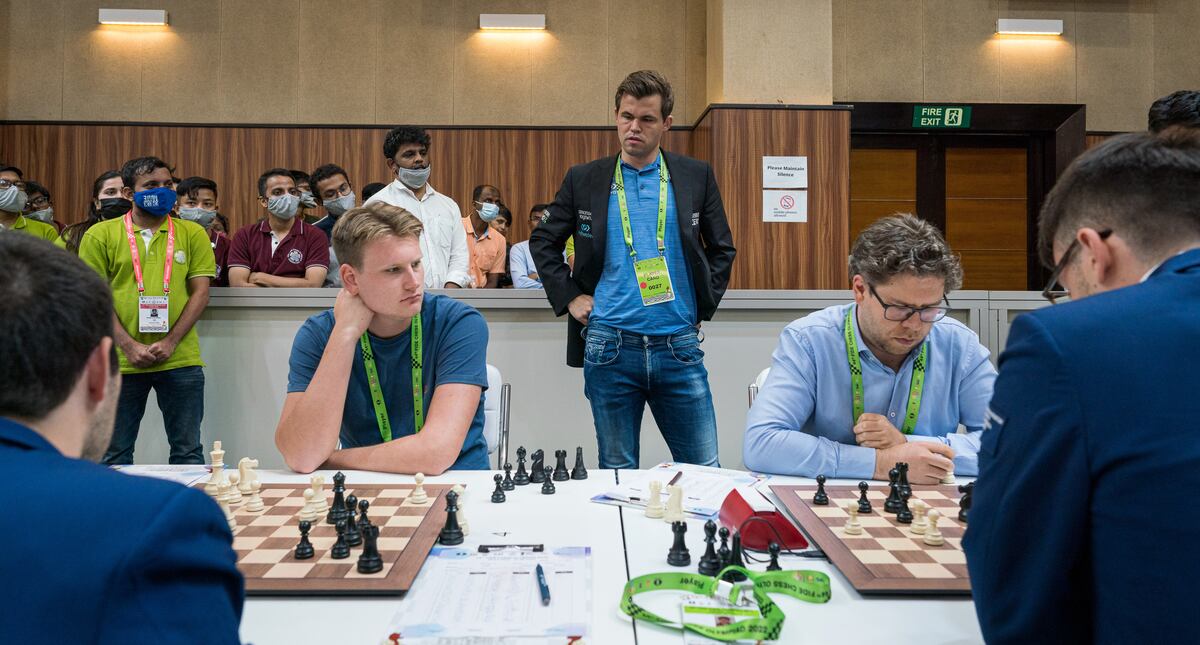 [ad_1]
Magnus Carlsen continues to underperform 11 days after announcing he will not defend his world title. Today he (with the black pieces) couldn't beat Italy's Daniele Vocaturo; even if it had, Norway (3rd place) would still have lost 3-1. The two main favourites, the United States and India, beat Georgia (3-1) and Greece (3-1), while Spain (4th in the starting list) defeated Brazil by the same result and remains among the 20 teams (7 by tiebreak ) with three wins. The very young Indian B team is the only team that has won 4-0 every day.
It quickly became clear that Carlsen wasn't comfortable with his opening position, as he rarely walked around the nearby tables when it wasn't his turn to act. He also didn't like the positions of his companions very much, which he often looked at without getting up. His concern was justified: Hammer and Christiansen lost to Lodici and Sonis respectively; and Tari couldn't get past the tie against Moroni. The World Champion tried to get oil out of the position but Vocaturo closed the darker paths well and secured a draw. Italy, 26th on the start list, has provided the biggest upset so far in the team results.
Carlsen was also right when he warned before the start of the Olympiad about the tremendous power of India B, consisting of four juniors (Gukesh, Sarin, Praggnanandhaa and Sadhwani) and the others veteran (30 years) Adhiban. Crushing a team as tough as the Swiss – which they did today – shows that alongside the enormous accumulated talent there is also team spirit. India B meets Italy in Round 4 this Monday. The other meetings between leaders are: France-India; USA-Uzbekistan; India C-Spain; Poland-Romania; Turkey-Azerbaijan; Israel-Netherlands; Serbia-England and Armenia-Austria.
In absolute competition there were two more surprises: Cuba parted (2:2) with Ukraine (8th in the starting ranking) and Austria beat Germany (9th) (2.5:1.5). And two more at the Women's Olympiad: Mongolia and Estonia beat USA (7th) and Armenia (9th) 3-1 and 2.5-1.5 respectively. Also unexpected is the loss of Spain (13th) to Sweden (34th), with Vega and Matnadze losing to Pía Cramling and Agreest on the first two boards, and Calzetta to Johansson in the 4th; Marta García beat Anna Cramling-Bellón.
The key to the Spanish men's 3rd win lay on the backboards: Jaime Santos and Iturrizaga beat Mekhitarian and Diamant, while Shirov and Vallejo easily shared points against Supi and Fier respectively. Anton was resting.
Subscribe to something Weekly newspaper 'Wonderful move', by Leontxo Garcia
reduced by 50 percent
Subscribe to continue reading
read limitless
[ad_2]
Source elpais.com