BRIDGERTON

"Bridgerton" Season 3 tells the love story of Penelope Featherington and Colin Bridgerton. We reveal what is known so far about the start, plot and cast of the sequel to the Netflix series.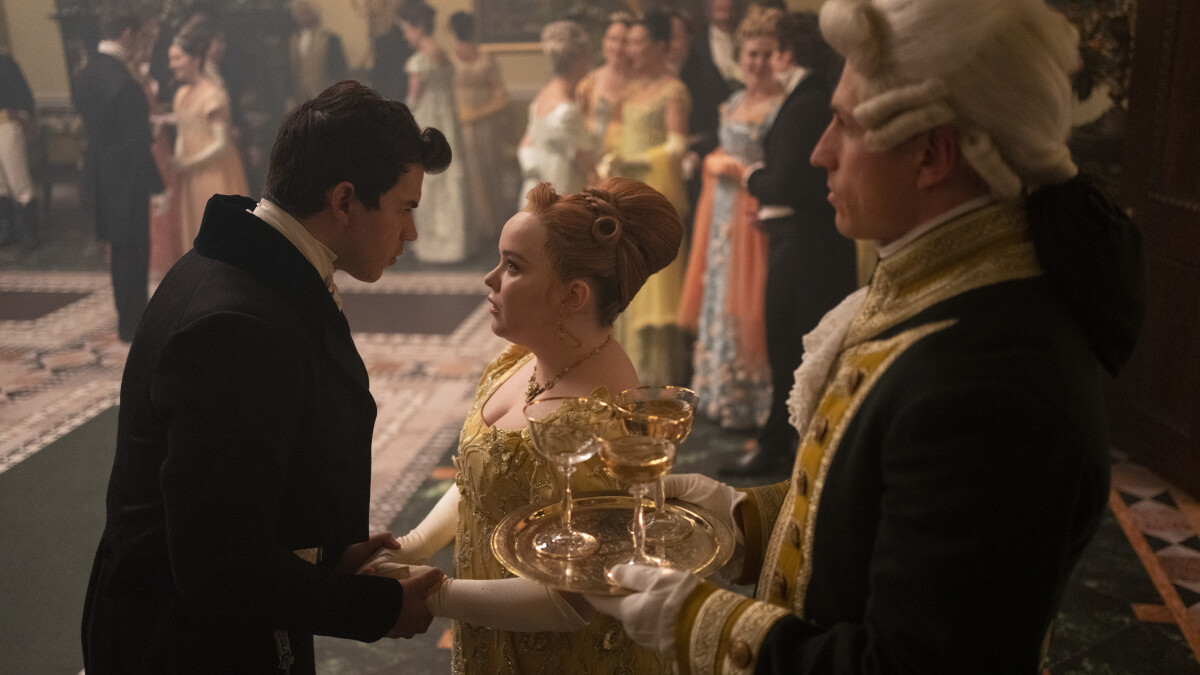 Production on season 3 of Netflix's hit "Bridgerton" is already in full swing.
In the new season, the series deviates from the order of the books and does not tell the story of Benedict Bridgerton.
The new episodes will center on Penelope Featherington and Colin Bridgerton.
After Anthony finds his true love in "Bridgerton" season 2, it's Colin Bridgerton's turn in season 3 and outstrips his older brother Benedict. Netflix has officially renewed the series for season 3 and season 4. Filming for season 3 has already started.
Bridgerton season 3: start date

There is no start date yet. However, since "Bridgerton" Season 2 was released in late March 2022, we guess we will see Season 3 on Netflix in Spring 2023. Season 3 started filming in July 2022.
Bridgerton Season 3: Script

Each "Bridgerton" season follows the love life of one of eight Bridgerton children. Season 3 was supposed to focus on Benedict Bridgerton, Edmund and Violet's second son. But now it's clear that the order of love stories for the series will be changed.
Season 3 shows us the romance between Penelope Featherington and Colin Bridgerton. The fourth book in Julia Quinn's series of novels is dedicated to them. We'll probably see Benedict's story in a later season.
Since "only" one expansion up to and including season 4 has been confirmed so far, the most popular characters from the "Bridgerton" universe will likely be preferred in order to secure an additional continuation through the season. 8.
According to the official season description, Penelope has given up hope that Colin will ever feel anything for her. So she goes in search of a suitable husband. Ironically, Colin gives her advice and gradually begins to fall in love with her.
Meanwhile, the situation between Penelope and Eloise Bridgerton has not calmed down. It has to do with a new friendship Eloise has made. Penelope also struggles to keep her alter ego, Lady Whistledown, a secret.
We know that from volume 4 "The Spicy Secret of Penelope" by Julia Quinn

Of course, if you're worried about spoilers, you shouldn't read any further, but we'll tell you what's known about Volume 4 of Julia Quinn's novels and how the story could be adapted for the series.
In Penelope's Spicy Secret, Colin Bridgerton returns to London after 12 years of travels. Penelope Featherington is eagerly awaiting her boyfriend, whom she has always been secretly in love with. However, she has now agreed to be society's spinster as she is still unmarried.
Colin no longer sees her only as his sister Eloise's shy best friend, but realizes that Penelope is a smart, funny and talented woman. While the rest of London's high society searches for Lady Whistledown, who still writes her tabloid, Colin and Penelope grow closer.
Lady Danbury promises a £1,000 reward to anyone who reveals Lady Whistledown's identity. Penelope learns that Colin kept journals on his travels and is in love with his writing style. During a discussion about it, the two kiss.
At the next ball, Colin wants to apologize for his inglorious behavior, but Cressida Cowper suddenly announces that she is Lady Whistledown. He therefore postponed his apologies until the following day. But then he overhears Penelope taking her latest tabloid to her editor and realizes she is Lady Whistledown.
He confronts her, an argument ensues and suddenly Colin realizes that he loves Penelope and the two are sleeping together. He proposes to Penelope and she accepts. When Cressida discovers Penelope's secret, she tries to blackmail her. Penelope herself announces that she is Lady Whistledown and that she and Colin are getting married.
The book could therefore be adapted into a series

In the series, the story will play out a little differently. Already in season 2 certain aspects of the book were covered by Colin returning from his trip to Greece. A 12-year time jump is therefore unlikely in the series. Already in the last season, the feelings between Penelope and Colin appeared, but he still rejects them.
Plus, there's no element of surprise with the Lady Whistledown reveal, since we've known since Season 1 that Penelope was behind the tabloid. Her secret causes a falling out with her best friend Eloise Bridgerton at the end of season 2.
Cressida's attempt to blackmail Penelope with the truth might at least get Eloise and Penelope to get along again. Eloise is the only person, apart from Madame Delacroix, who knows that Penelope is Lady Whistledown.
Perhaps in Penelope's fate, she realizes her friend was only doing her a favor in Season 2 when she spilled a secret from Eloise as Lady Whistledown. At least that's how Penelope was able to dissuade the queen from punishing Eloise for the tabloid, even if she had nothing to do with it.
Bridgerton season 3: trailer and pictures

The first trailers and images are usually only available a few months before the start of new episodes of a series. The first footage is not expected until late 2022. So far, there is only one behind-the-scenes video of the entire Season 3.
External content
from Youtube
At this point you will find one Videos from Youtube, which completes the article. You can display it with one click.
I consent to external content appearing to me. This allows personal data to be transmitted to third-party platforms. More information about this in our privacy policy.
Bridgerton Season 3: Cast

Nicola Coughlan will reprise the role of Penelope Featherington, while Luke Thompson will continue to play Colin Bridgerton. The other actors and actresses will likely return to their well-known roles.
However, Francesca Bridgerton was recast. Hannah Dodd will now play Bridgerton's daughter after Ruby Stokes has been absent from other acting engagements in recent seasons.
Season 3 also features Daniel Francis, Sam Phillips, and James Phoon. Francis takes on the role of Marcus Anderson, a charismatic socialite whom some members of London's high society dislike.
Phillips plays Lord Debling, an eccentric aristocrat who is infatuated with young women due to his title and wealth. Phoon, who plays Harry Dankworth, is considered extremely attractive.
Nicola Caughlan as Penelope Featherington
Luke Newton as Colin Bridgerton
Luke Thompson as Benedict Bridgerton
Jonathan Bailey as Lord Anthony Bridgerton
Phoebe Dynevor as Daphne Basset
Claudia Jessie as Eloise Bridgerton
Ruth Gemmell as Lady Violet Bridgerton
Florence Hunt as Hyacinth Bridgerton
Will Tilston as Gregory Bridgerton
Polly Walker as Lady Portia Featherington
Golda Rosheuvel as Queen Charlotte
Adjoa Andoh as Lady Danbury
Bessie Carter as Prudence Featherington
Hannah Dodd as Francesca Bridgerton
Daniel Francis as Marcus Anderson
Sam Phillips as Lord Debling
James Phoon as Harry Dankworth
Bridgerton Season 3: Production

Production on "Bridgerton" Season 3 has already begun. Filming began in July 2022. The new season will likely have eight episodes. The series is produced by Shonda Rhimes' company Shondaland. Showrunner and producer Chris Van Dusen is the mastermind behind the series.
| | |
| --- | --- |
| Rate Bridgerton | |
| gender | drama |
| first broadcast | 01/01/2020 |
| First broadcast in Germany | 25/12/2020 |
| home page | netflix.com |
| More resources | |
| network | netflix |
| squadrons | |
Don't miss a thing with the NETWORK-Newsletter
Every Friday: the most informative and entertaining summary of the world of technology!
This page was created using data from Amazon, Netflix, MagentaTV, Sky Online, iTunes, The Movie Database, Fanart.tv, Warner Home Entertainment, Sony Home Entertainment or their respective production studios and/or publishers. In case of errors or problems, please use the contact form.
Source moviepilot.de