Algeria coach Djamel Belmadi sent an emotional message to the "Desert Warriors" fans before they face Cameroon in the 2022 World Cup qualifiers.
and solve Algeria national team A guest from Cameroon, on Friday, in the first leg of the final phase of the 2022 World Cup qualifiers for the African continent, before receiving him 4 days later at the "Mustafa Tchaker" stadium in the second leg.
A few days before the match, Djamel Belmadi sent an emotional message to the Algerian fans, who will travel to Cameroon to support the Algerian team.
"We are pleased that a large number of our supporters have traveled to Cameroon to support us during the Douala battle," Belmadi told Algeria's Ennahar TV.
He continued: "The presence of the Algerian fans in large numbers at the Jaboma Stadium would be a great morale support for the players, the coaching staff and the coach, as it would help us to achieve our goal of getting a positive result in the first leg. ".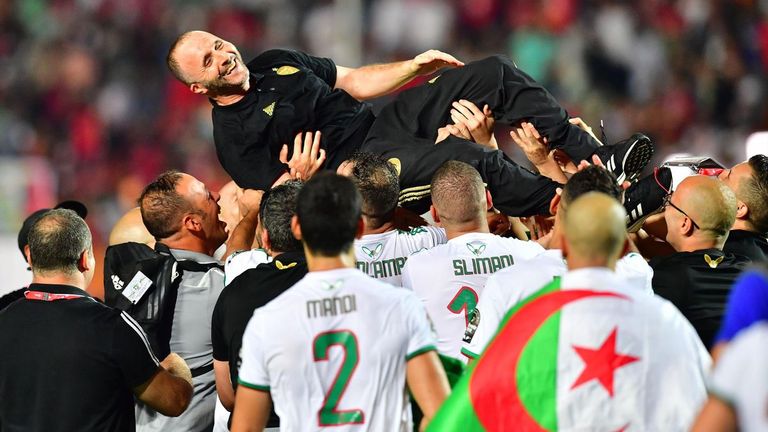 And he concluded: "I thank the fans for the sacrifices they have made to help the Algerian team in the difficult game that awaits them in the World Cup qualifiers."
The Algerian fans are expected to be present in great numbers in Cameroon, where it was decided to carry out an air attack at affordable prices to give the necessary moral support to the "warriors of the desert".
Algeria will hope to achieve a positive result in the first leg against the "Untamed Lions" team to support their chances of qualifying for the World Cup final for the fifth time in their history.
The African champion had previously participated in 4 copies of the world's most prominent competition, and achieved his best feat in the 2014 session, in which he qualified for the quarter-finals before losing 1-2 to Germany after extra time.