"It's been a long year," says Anita Álvarez (New York, 1996), who is sitting in an armchair in her hotel in Budapest on the right bank of the Danube, a few hundred meters from the pool in which she sank unconscious on Wednesday after quit her routine in the free solo finale with an incident that made her a claim mark good morning america, and other television programs in the United States. "I broke my foot in February, had surgery in March, and competed again in May because I was determined to go to these World Championships…" she says. A storm of naivety, fear, courage and pride flashes in his black eyes.
Questions. How did it start?
Answer. My mom was a collegiate synchronized swimmer and she was my first coach. I grew up training them and spent the early years of my life mimicking everything the adults did in the pool. Over time, I started swimming at my club's program in Buffalo, a city in upstate New York where everything is very close by. There is a big Olympic culture in my family. My maternal grandfather was a hockey referee at the Winter Games.
P Do you think people are aware of the effort that synchronized swimmers put in?
R As in any sport, we push our body to its limits and sometimes a little. People don't recognize it because an image of harmony and happiness is achieved. We smile with makeup. These little things hide how tremendously challenging it is. When training ends, we feel like we are dying. We can't even move. People cannot imagine how common these fainting spells are. I drew a lot of attention because it happened to me at a World Cup. But in this sport, swimmers are fading away every day. This doesn't just happen to me.
P Have you noticed that you are reaching your limits?
R no I just felt like leaving everything in the pool. In the last character, where I have to say goodbye by raising an arm, I remember thinking, "Squeeze that arm! Don't give up now! Give everything until the last second!" In the past I felt like I was fading. This time I felt like I was mentally very connected, so deep into my role, living the moment so intensely that I really enjoyed my performance. Keep going, keep going, keep going… Sometimes you don't feel pain until you stop. It's like athletics. i like to run Sometimes you run and the moment you stop you feel the punch. This routine made me feel great, as tired as ever, but I was enjoying it. And when I felt like I could finally allow myself to relax, everything went black. I don't remember anything else.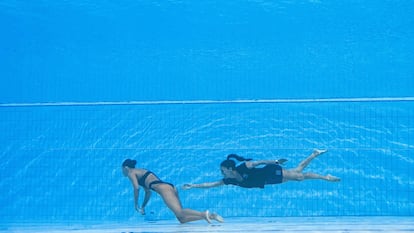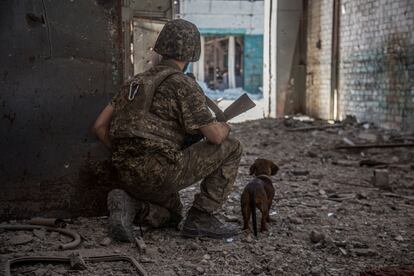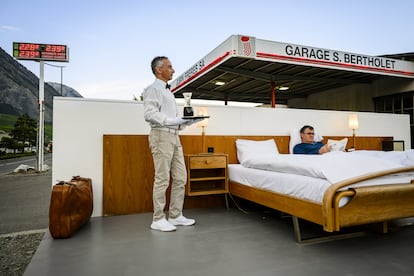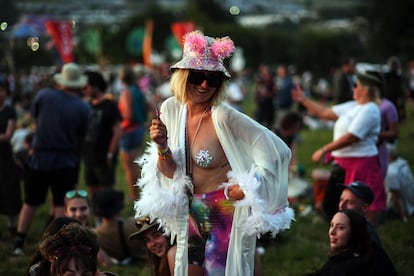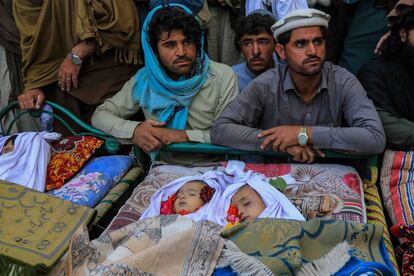 P What did you think when you saw the photos of Andrea Fuentes rescue?
R At first they shocked me. I didn't expect something like this to be released. But then I took it easy. I didn't mean to be pessimistic. Now I find the photos somehow beautiful. Seeing me down there in the water, so peaceful, so still, and seeing Andrea come down with her arm outstretched and trying to reach me like a superhero… Sometimes the most peaceful place on earth is underwater: when you're at the bottom of the Pools sits in silence. You feel that you do not weigh, you are with yourself. I love it. Sometimes I need this moment. And in the photos everything looks very natural, although it is very difficult to pick up a person from the bottom of a pool and lift him to the surface. Especially when you dive ten feet in your street clothes to deadlift. This morning Andrea said she had lumbago!
P do you want to swim again
R I rested a lot, all night and all day. My body feels completely normal. This has happened to me before. They rest and return to the water the next day. You have to do it this way so you don't overload your head with fear. The doctors checked me out. I feel like my body can handle it and it's all in my head. I want to end this competition, which has been the best in the United States for a long time. I'm very satisfied with my solo and now I wouldn't want to do without the commitment for my team in the final of free practice. I want to end with my head held high. I want my colleagues to feel like they can trust me and that makes us stronger.
P What does he learn from Andrea?
R As a kid we followed her swimming and when we found out she was going to coach us we were blown away. She didn't disappoint us either as a coach or as a person. She doesn't just want us to be successful as athletes. He wants us to be better people.
You can follow EL PAÍS Sports in Facebook Y Twitteror sign up here to receive our weekly newsletter.
reduced by 50 percent
Exclusive content for subscribers
read limitless
Source elpais.com