Barcelona continued its good performances in the Spanish League, defeating Osasuna 4-0, on matchday 28 of the competition.
qualification goals Barca Ferran Torres "double", Pierre-Emerick Aubameyang and Ricky Puig in minutes 14, 21, 27 and 75.
The Catalan team achieved its fourth consecutive victory in the Spanish League, raising its score to 51 points in third place, while Osasuna's balance was frozen at 35 points in 11th place.
Barcelona coach Xavi Hernandez owes this victory to his French player, Ousmane Dembele, who contributed to 3 goals from his teammates.
Dembele Hammer
Xavi opted for a 4-3-3 plan, forming two fronts along the pitch, with Dani Alves, Pedri and Dembele playing on the right, Jordi Alba in front, Jaffe and Ferran Torres on the left.
Gerard Piqué and Eric García played in the depth of the defense, in front of them the central pivot, Sergio Busquets, and the spearhead of Aubameyang.
Barça needed less than 30 minutes to bring down their rival, and scored 3 goals, which "Veran" started with a penalty kick obtained by "Jaffe".
However, Dembélé was the most dangerous weapon with his overflows, as he fired on goal and converted the second and third goals with skill and insight.
gradient activation
In the second half, Xavi took advantage of his rival's humility to give the greatest number of players a chance, and revitalize all the team's ranks.
On the quarter of an hour, French defender Clement Lenglet replaced Piqué, then Ricky Puig and Memphis Depay replaced Pedri and Abamyang, then Braithwaite and Mingisa replaced Ferran Torres and Alba.
Puig rewarded the Barça coach by scoring the fourth goal with great skill, taking advantage of Dembélé's gift, which he converted into a hammer blow that destroyed the Osasuna defence.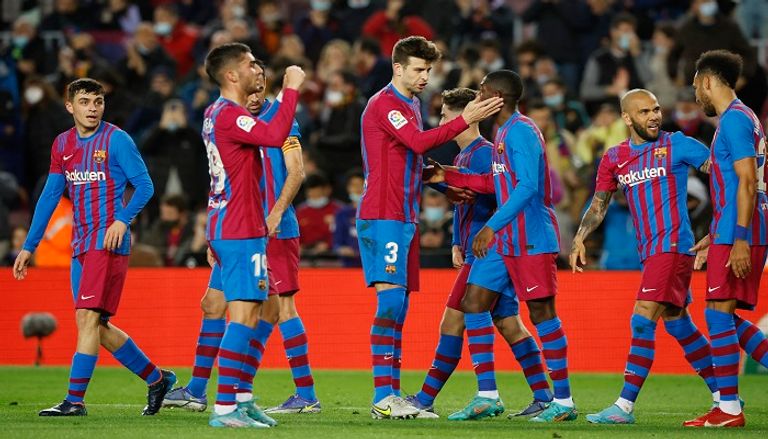 Honor guest
On the other hand, Marc-Andre ter Stegen, Barcelona goalkeeper, was the guest of honor, as he was not subjected to any tests despite the change in the composition of the defense.
Barça was about to double the result, with a shot from Dembélé saved by the Osasuna goalkeeper, and a scissors from Memphis Depay, which went far from the post.
Depay also squandered a real chance to score a fifth goal by stopping the ball for his teammates in a counterattack by 3 attackers against an Osasuna defender.
However, Barcelona achieved a victory with the least effort, which consolidated its career in the last domestic test before the Clásico against Real Madrid, in addition to facing Galatasaray in the European League.