Tony Oursler (New York, 65) has studied the impact of technology throughout his career. With patience and a research more typical of a man of the Enlightenment than of someone who grew up with the flashes of MTV, the first cult series and the endless consumption of images. Oursler has been a pioneer of video art since the early 1970s, when he began experimenting with the oldest magic lantern tricks or camera obscuras, adapting them for sculpture, painting and hypnotic installations. The strange creatures Oursler makes are unsettling, often inducing tenderness, and exuding a strange beauty. They invite you to think. They are the product of a paradigmatic boomers: "I come from the TV generation. We spend more hours watching TV than sleeping. It was a great social experiment," Oursler explains today while sitting at a large wooden table in the living room on the first floor of his apartment building in Lower Manhattan.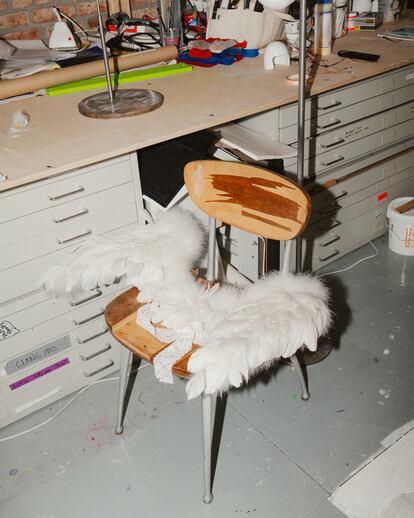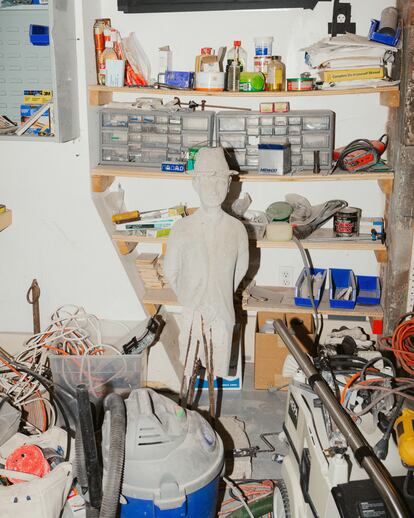 The artist bought the old three-story building where he receives us, on a quiet street between the banks of the East River and Chinatown, a few months before two planes crashed into the Twin Towers a few blocks from here. It was the first historical event of the 21st century to be broadcast on the internet, and most of the world's people learned about it through one of those primitive mobile messages that couldn't yet embed images. Everything that happened before and after this turning point in our communication is reflected in the work of the New Yorker. "I've always been concerned with what it means to move from real to virtual space," he says.
At the age of 20, while still debating whether to choose painting or sculpture as a student at the California Institute of Art, popularly known as CalArts, television was still a fantasy packed in a wooden box and few had the opportunity to take pictures. To get him out of doubt and to motivate his interests, his teacher and one of the first photorealist painters, John Mandel, encouraged him to experiment with video. "I got a camera and it was magical," he recalls. He immediately began embedding small videos in installations that addressed the viewer with humor, irony, and imagination on subjects such as personality disorders, the effects of advertising, Cold War politics, video surveillance, or, his recent obsession. climate change, which has prompted him to project images onto trees, rivers, lakes or mountains.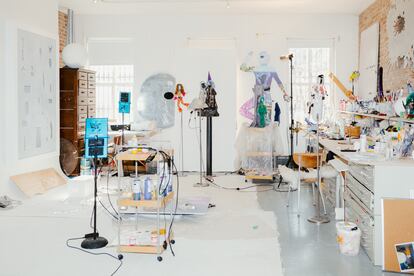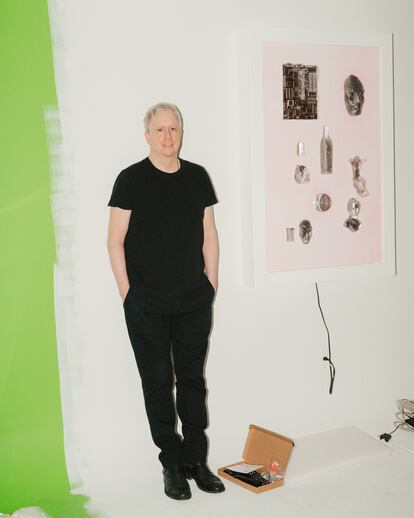 "My learning was a process similar to starting a mobile recording to see what comes out," he explains of his trial-and-error technique. The study on the ground floor of the building is a kind of laboratory full of cables, crisps, computers, books and cans of paint mixed with the pieces that will go to their next exhibitions. Entering there is like opening the curtain behind which he hides The Wizard of Oz. As in the iconic 1936 film directed by Victor Fleming and starring Judy Garland, among all the artifacts are some 12 inch dolls representing archetypal characters: a wild woman, a wizard, an astronaut and a goth Punk with the likeness of The Cure frontman Robert Smith. Small glass screens are embedded in their faces, projecting human faces whispering incoherent words. "It's an experiment about empathy and our relationship with our other possible selves," he explains of these characters, who will be traveling to Aspen, Colorado to be exhibited at the Baldwin Gallery.
Oursler's talking heads have always been a constant in his work and are the most iconic pieces of his oeuvre. The origin dates back to 1990 when he inserted a human mouth into a stuffed panda bear that appears in the song's video clip song for karenby Sonic Youth. Three years later, he applied this technique to two mannequins installed at the Center for Contemporary Art in Geneva, which bore the names of phobic Y white trash (Fóbico and Trash Blanca), who interrupted each other to show the fear and chaos that reigned in the US suburbs, but the piece that will remain in the collective imagination is the song's video clip Where are we now, with which his close friend, musician David Bowie, returned in 2013 after a decade in the shadows. Recorded in Oursler's studio, two puppets bearing the face of the singer and the artist's wife, painter Jacqueline Humphries, sit in front of a screen projecting images of Berlin, the city where Bowie recorded his acclaimed album heroes in the seventies.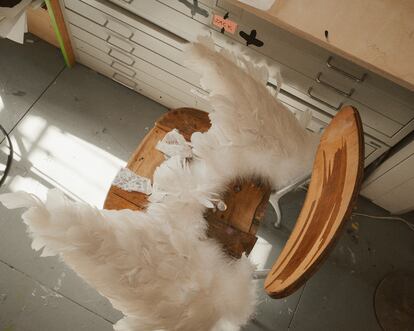 The melancholic atmosphere runs through the entire recording. The track turned out to be an epilogue to the singer's personal epitaph, which was completed three years later with the release of his latest album. dark Starjust before he died of cancer. This friendship resulted in numerous collaborations between the two. To the satisfaction of the mythomaniacs, he still salvaged material that never saw the light of day. "He was great, I was very lucky to meet him and work with him. I miss him," he admits. The video art explosion was forged in the context of rock bands and performative art, and later found its way into institutions. Before Bowie, Ousler worked with conceptual artist Mike Kelley, actress and libretto writer of Philip Glass's satyagra opera Constant DeJong, and former punk guitarist turned sound engineer Stephen Vitiello.
This display of creativity caught the attention of museums. "I was lucky enough to have that moment when they started experimenting with video," he recalls. His work caught the attention of former Center Pompidou curator between 1994 and 2013, Christine van Assche, who invited him to a year-long residency in Paris. "Video installations started to consolidate, then they became ubiquitous, and later people got tired of them," he summarizes. Oursler's works have found their way into the collections of MoMA, the Whitney in New York and the Tate Gallery in London, among others. His pieces were exhibited for the first time in Spain by Soledad Lorenzo. The Madrid-based gallery owner didn't stop until she met him after seeing his first solo show at Manhattan's Metro Pictures Hall in 1994. In March he presented a new collection of his little freaks at the MPA Gallery in Madrid. Circuit diagrams of the project still hang on the walls of the studio. Before each work, Oursler meticulously documents old photographs, newspaper clippings, psychology or history books, which he spreads out on a table tennis table in the living room of the house. "It's an impulse, I get excited about an issue and take it to its ultimate consequences," he explains before an exhibition of objects related to water and magical thinking for his next project.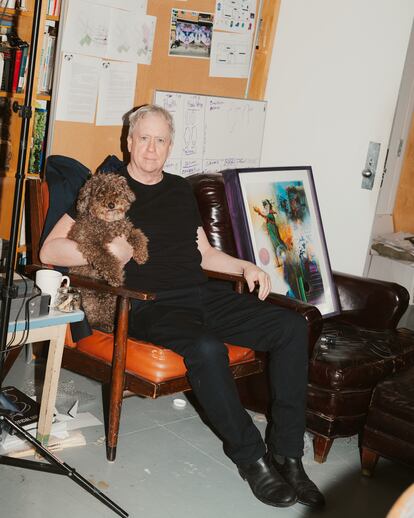 This humanistic approach runs in the family. His paternal grandfather, Fulton Oursler, was a writer obsessed with Arthur Conan Doyle stories and worked with illusionist Harry Houdini. His father, Charles Fulton Oursler, a journalist and crime fiction writer. And her mother, Grace Perkins, also a writer and actress. It is evident from this legacy that his work is steeped in mysticism, macabre humor and paranormal effects to reflect popular culture beliefs. Oursler's video installations are not as simple as they seem. "I always wanted the viewer to complete the story," he explains. A task he finds increasingly complicated as he faces a passive audience trapped in cell phones. "I thought there would be more creativity with such a powerful device in our hands, but it wasn't," he regrets. Zetas, it's your turn.
reduced by 50 percent
Exclusive content for subscribers
read limitless
Source elpais.com