The social services of the districts of the capital Madrid looked after 305,431 people in the first three months of 2022. This figure corresponds to 70% of all people cared for in 2021. And yet there are such offices in 16 of the 21 district offices less personal that six months ago. 69 social workers and 48 administrative employees are missing. The districts of Puente and Villa de Vallecas, Ciudad Lineal, Usera and Villaverde are most affected by staff shortages. "Those who can, flee," tries Carmen Lara from CC OO to explain what is happening. According to union calculations, a quarter of workers are currently asking for a job adjustment, which means that they reduce their hours or their workload because they can no longer do it.
A month ago, all city council groups agreed to review the functioning of social services, where 40% of staff are dedicated to bureaucratic work. There will be a 114-action plan starting at the end of the year and ending in 2023 to include psychologists and social workers and cut red tape, among other things. Meanwhile, the workload for the workers remains very heavy. This is the report, under assumed names, of a day's work by three of these officials:
Federico, Administrator in San Blas
Eight spaces available. 14,980 people served in 2022
"I'm alone. We have less than half the social workers we should have. I go in around 7:30 a.m. and open the mail center. I usually get 20 or 30 emails a day from people asking for appointments : evictions, prosecutor's reports… I answer urgent matters, then I take the agendas from the center to give to the janitors so we already have the lists when the users come so they know where to send them Then I listen to the center's answering machine, on which I get about 10 to 15 calls a day. And then WhatsApp, it's crazy because you answer, but they drive you crazy and then you never finish.
When I realize it, it's already nine o'clock and the doors of the center are opening. An administrative assistant comes down to help me and do a bit of filtering. We assign appointments in the social worker's agenda for two months instead of eight days. We need to do a bit of firefighting to refer them somewhere if possible or ask for papers and then make an appointment with the social worker if necessary. I can personally serve about 40 people daily. Everyone with their problems. But hey, it takes time.
What affects most is what happens next. Subscribe so you don't miss anything.
Subscribe to
Having been in this ministry for 35 years, I try to be completely neutral with no feelings about anything. I don't carry the cases in my head. When I clock out I try to leave my backpack there. When a social worker comes to tell me about a case because they are all women in my center I try to stop them. I don't listen to much about him because naturally my head goes where it goes. In the family it never occurs to me to talk about work."
Begoña, social worker in Ciudad Lineal
Seven places without cover. 19,817 people served.
"I arrive at eight in the morning. I have an email with lots of outstanding issues, a busy agenda, only one urgent appointment available, plus another appointment off schedule for a lady who couldn't wait (I have a waiting list of over a month and a half). Management informs me that a colleague has contracted Covid.
Two urgent couriers arrive, one from a hospital for vulnerable elderly. You must find a way to take care of him… A stay takes time. The other is a serious case of a person with mental health problems, let's see how we can support him.
I'm starting to keep my appointments. A single-parent family: a woman with two minors. His salary does not allow him to pay the 750 euros in rent. He doesn't get any benefit because he exceeds income with his minimum interprofessional salary… Neither does the city government's family card because he exceeds income, but he doesn't have enough to eat. I advise him to go to Caritas.
An immigrant gentleman on the street arrives at a need hole. He has no income. You have exhausted all benefits. Contact Samur Social. You have no space. I am looking at other entity housing but there are no vacancies. I try to ask him about the Minimum Living Income (IMV) but he doesn't have a phone or an account. I don't know how to help him, I inform him about soup kitchens, I arrange to meet him off schedule in four days to see if any formalities can be tackled…
The son of a user is there. His mother has been recognized for a 20-hour domestic help service, but I can't take him on because she's on the waiting list of the Autonomous Community of Madrid. He's angry, he's right. I refer you to the community for a complaint.
I am servicing a user who is requesting financial assistance for rent. It is a single parent family with three children. She has a restraining order for being a victim of gender-based violence, but nothing happens to her ex-partner. It does not charge more than the Active Insertion Income (€451). You owe an annual rent: €750 per month. City Council Family Card processing is appreciated but you may have to wait a few weeks. He's asking for council housing, but it takes time. You are advised that in the event of an eviction you may be referred to the City Council's Alternative Housing Scheme which is temporary and shared. He will think about it.
I'm very late, these cases take more than the allotted 30 minutes per appointment. An elderly person comes to request telecare and home help. Some parents of minors come: They have asked us for a report from the prosecutor for alleged abuse. It is a long and intense appointment, it seems that we can offer him the support of an educator.
Throughout the morning I get calls from users who show up without an appointment for an emergency. One goes for help with the school canteen, the other in an irregular situation, wants to apply for asylum, asks for housing, work… She is informed that in her situation there are few alternatives to housing and the few that are available are saturated. I call the Samur Social again: there is no shelter. I refer to a job search center and refer to the information office for the immigrant population. I also advise him to go to Caritas.
This is an example of an ordinary day. There are many people who request emergency care, but it is not possible. We are satiated. Resources are very limited."
Pablo, social worker in Villa de Vallecas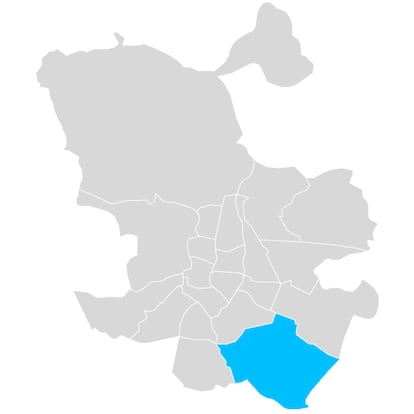 12 places free. 9,442 people served.
"The feeling of control is when you have everything tied up a bit: your elderly, the pending reports that you have to analyze at the prosecutor's office, the home help that you have to activate for the elderly, or your intervention projects with families and others. I've had this feeling for six or seven months. I've spent two or three months where I would say that sense of control has been wasted. On those days you close the computer and go home feeling like you've lost control and that you need to come back the next day and still have the same feeling.
I average eight appointments a day, throw in a family who needs something in between, and leave with my tongue out.
How many files does each social worker have? A friend is now around 600. I've reached 700. There are hundreds of files that you cannot access. This is hard: you think that what you can do will be worth practically nothing or will not be enough to get a person out of the hole. You end up thinking, "If something happens, I'll find out." And that's a very common feeling among the Companions: that we're useless, that we're not getting there.
At the moment I'm accepting that, I share the feeling of being punctual, but I don't try it with family or friends."
Subscribe here to our daily newsletter about Madrid.
Source elpais.com