Two indigenous children, ages 7 and 9, were found severely malnourished after being lost for 25 days in the Brazilian Amazon.
Januario Carneiro da Cunha Neto, coordinator of the Indigenous Health District of Manaus, the capital of the Amazonian state, where the two children disappeared, told AFP that the two children, Glocon and Glissen, were found on Tuesday by one of their relatives. , "35 km from the place where they disappeared. And they suffered from "serious malnutrition and dehydration, because they only ate wild fruits."
The official noted that the two children "gained weight and the danger to life is removed" after receiving hospital care.
The two brothers, belonging to the Mora ethnic group, have been missing since February 18, the day they went out to hunt birds in the jungle of the Manikuri district, 330 km from Manaus.
Carneiro da Cunha Neto explained that the two children, during their stay in the jungle, "drank only rainwater and lakes, and ate sorva" (domesticated sparrow), a fruit rich in carbohydrates and fats.
Rosinetti da Silva Carvalho, the mother of the two boys and 10 others, told local media that "they usually ate sorfa, since my eldest son always carried a bag when he went fishing."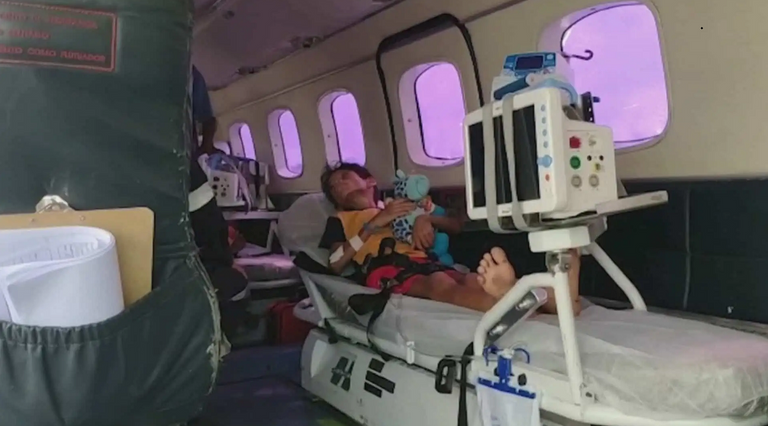 Scenes broadcast by local media showed the two boys in a state of extreme weakness after being rescued.
They were found by chance, as official searches were called off a week after their disappearance.
"An acquaintance of the family went to look for firewood and ran into the two children," Carneiro da Cunha Neto said.
During the long days when the two boys couldn't find their way home, the older one, Gleeson, cared for his younger brother, carrying him on his back as he was exhausted from lack of food and water.
This incident recalls an adventure lived in early 2021 by the pilot Antonio Sina, since his tourist plane crashed and was lost in the Amazon, where he spent 38 days.