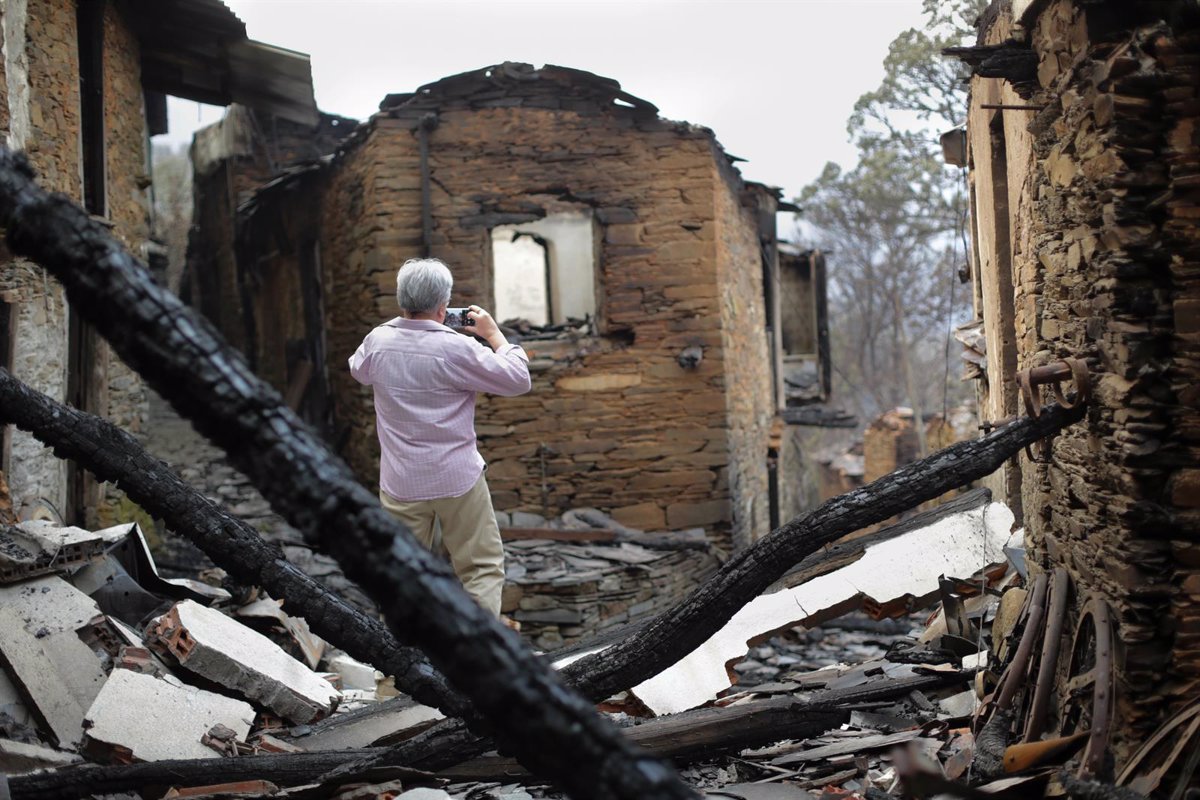 [ad_1]
The O Courel fire is already burning 8,600 hectares, while the damage in O Invernadeiro Natural Park increases to 3,500 hectares
SANTIAGO DE COMPOSTELA, July 20 (EUROPA PRESS) –
The wave of fires that has been sweeping Galicia since last Thursday is still uncontrolled and is already burning more than 22,500 hectares, with the fires in O Courel (Lugo) and Valdeorras (Ourense) being the biggest.
According to the Ministry of Rural Environment update on Wednesday morning, the Folgoso do Courel-A Pobra do Brollón macro fire – which brought together four fires from Vilamor and Saa – totals 7,500 hectares where Situation 2 is still active – alert due to proximity to Houses – in the towns of Parada dos Montes and Carballal (Folgoso) and Busto (A Pobra). Added to this are another 1,100 hectares in Folgoso, municipality of Seceda, also with situation 2 due to its proximity to the town of Gamiz.
The Xunta's preliminary estimate keeps the affected area at 7,500 hectares in Carballeda de Valdeorras, municipality of Riodelas, a fire that spread to both banks of the River Sil and affected the Serra da Enciña da Lastra Natural Park.
In this fire, which was stabilizing but reactivated over the weekend due to wind action, Situation 2 is activated due to the proximity of the flames to the Candeda core in Carballeda. In addition, it is already reaching the neighboring province of León, where the towns of Salas de la Ribera and San Pedro de Trones, in the municipality of Puente de Domingo Flórez, have been evicted.
According to the latest data from the Ministry of Rural Affairs, more than 1,400 people in 80 population centers of O Courel (Lugo) — some 60 villages — and Valdeorras (Ourense) — some 20 villages — have been displaced by these fires. In several areas it was possible to return to the houses.
Also in Ourense, the third forest fire with the largest affected area, also active and uncontrolled, is the one that has already destroyed 3,500 hectares of the Parque Natural do Invernadeiro in Vilariño de Conso.
DISABLED SITUATION 2 IN OÍMBRA
The situation was complicated this Tuesday afternoon in Oímbra, where one of the three outbreaks in the municipality that entered from Portugal forced the activation of Situation 2 due to its proximity to the nucleus of Feces de Cima in Verín, an alarm that was deactivated at dusk . This started in the municipality of Rabal and burned down 750 hectares.
The other important point was the reactivation of the Videferre eruption, which was already stabilized and affecting 350 hectares. The third active fire in the community, in San Cibrao parish, has burned 400.
STABILIZED AND CONTROLLED IN LUGO
Apart from those in Folgoso, the remaining fires in the province of Lugo are stabilized or controlled. At 11:31 p.m., one of the four existing fires in the municipality of Cervantes, that in the parish of Donís (75 hectares), was extinguished.
Regarding the other three Cervantes fires, the Noceda fire has been under control since 11:31 p.m. Tuesday (100 hectares). Meanwhile, those of Cereixedo (65 hectares) and O Castro (20 hectares) continue to stabilize.
In Quiroga, Outeiro (250 hectares) is controlled and Nocedo (15 hectares) is stabilized. In addition, those in Palas, municipality of Ramil (375 hectares) and those in Antas de Ulla, municipality of Santa Mariña de Castro de Amarante (40 hectares) are checked.
FIRES IN PONTEVEDRA
Outside the provinces of Ourense and Lugo, Rural Area reports two fires in the province of Pontevedra: in the municipality of Rodeiro, Parish of Guillar, which is controlled and devastates 200 hectares; and that of Covelo, municipality of O Piñeiro, which is stabilized and burns 20 hectares.
To that must be added about 325 hectares of land burned by fires that Rural Environment has already reported have been extinguished in recent days. Specifically, they are Cualedro – 31 hectares -, Baiona – 46 hectares -, Melón – two fires totaling 98 hectares -, Quiroga – 83 hectares – and Ribadavia – 65 hectares -.
[ad_2]
Source europapress.es