Commercial

The price of the Aave cryptocurrency has increased by 14.41% in the last 24 hours, and its price today is $143.01.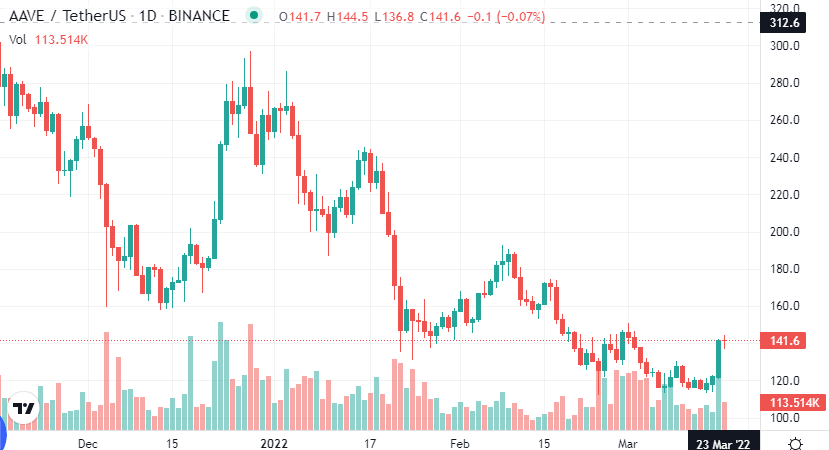 The reason for this increase is due to the release of the most powerful version of the Aave protocol to date, V3, as V3 introduces innovative new features, from increasing capital efficiency to improving decentralization.
1/ Aave V3 is here! 👻
The most powerful version of the Aave Protocol to date, V3 brings innovative new features ranging from greater capital efficiency to improved decentralization. Read what's new for V3 in the thread below 👇 or visit https://t.co/H3jTyKRqNs to dive in! pic.twitter.com/LXzn7660nA

— Aave (@AaveAave) March 16, 2022
But what's new in V3?
Electronic gates: facilitate cross-chain transactions
High Efficiency Mode – Unlocks high borrowing power
Quarantine mode: Allows you to insert new coins protecting the protocol
Gas Optimization – V3 reduces gas costs for all jobs by approximately 20-25%
L2 architectures: specific characteristics of L2 networks
Community: facilitates and encourages community use through a well-organized normative database
Risk Management – ​​Provides additional protection through a variety of risk limits and other tools
Notably, users will be able to access Aave V3 through countless new wallet and hotspot integrations across Instadapp, DeBankDeFi, 1inch, paraswap, zapper_fi, and many more.