Facebook announced in November that it would be changing its name to Meta, sparking widespread media coverage of the "metaverse," a concept that includes virtual reality, 3D gaming and other trends.
The company has promised multimillion-dollar investments in building hardware and software that deliver on Zuckerberg's vision of creating interconnected digital worlds that will improve the way we interact online today.
Interest in the Metaverse deepened earlier, after Microsoft announced plans to acquire Activision Blizzard, the leading game developer, for roughly $70 billion. As Microsoft said, it will provide "the building blocks of the Metaverse."
According to the Financial Times, some of the patents filed by Meta regarding technology designed to track eye movement and facial expressions apparently relate to enhancing the virtual experience by making an avatar or player appear more realistic.
Global Director of Business Engineering, Reality Labs at Meta, Ziad Traboulsi tells us how Metaverse will help improve social connections, saying:
"While wearing a virtual headset or glasses, with the help of hybrid technologies, people will be able to experience virtual reality although not necessarily in the same physical space as others. They will be able to create new experiences online."
Working in metaverse
With the development of ways to work remotely, companies around the world are increasingly adopting new work technologies. Horizon has included Workrooms as a special feature of a virtual workspace. With this model, Meta's focus is on how to be able to collaborate effectively, and it will be critical to ensuring workplaces are truly inclusive, especially when some people work from the office and others don't.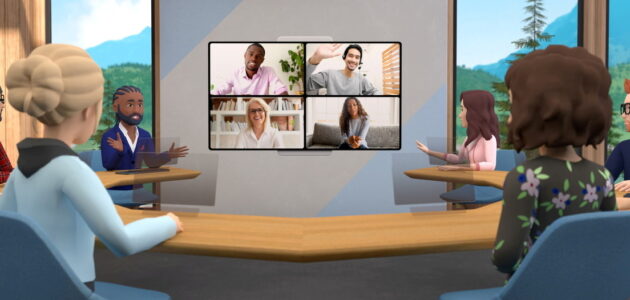 In the Metaverse, companies won't have to rely on access to expensive tools, massive workshops, or precious materials to train, study, or create art, games, or digital experiences for people to enjoy, Traboulsi explains:
"Metaverse will change the way we work. We believe cutting-edge home office technology is here to stay, so distributed teams can work smarter without sacrificing quality, even as some businesses return to office space." traditional".
Horizon Workrooms is a world of virtual meetings where colleagues can work together from anywhere. You can join a virtual reality meeting as an avatar and even bring your physical desktop and compatible keyboard into the virtual room.
Trabulsi added:
"It also allows you to interact with very interesting applications that make the experience almost like reality, for example, your body language as when you are leaning on a table or writing an idea on the whiteboard. You can't experience this in 2D video conferencing applications today, but it's all possible in Horizon Workrooms."
entertainment in metaverse
The gaming industry has already been booming in the metaverses for a while now. However, in the future, Meta promises that you will be able to participate more realistically. Roblox, a gaming platform, has built its version of a virtual event around metaverses, allowing users to get together for live virtual concerts, comedy clubs, or even bar nights.
The physical feel of the virtual world.
The latest interface Meta has announced it is working on is the Haptic Glove, a glove that allows you to feel virtual objects in virtual space. It forms an advanced control system, creating pressure on different parts of your hand. If you were touching a virtual object with your fingertips, you would feel the sensation of the object pressing against your skin if you were holding it. These sensations work together with visual and auditory cues to produce the illusion of physical contact.
Health and BeautyPhysical strength in metaverse
Ziad Traboulsi spoke about virtual reality and fitness in this world:
"As we connect the physical world with augmented reality and virtual reality, users will remain in the physical world, and since they won't be looking directly at an external screen and will only be using the devices in their hand, movement won't be restricted at all. Many products and apps already exist, such as Fit XR, which allows users to explore different activities such as boxing, fitness classes, meditation, etc.
What about metaverse developers?
The last decade has seen a shift from the web on the desktop to the mobile internet, and the next decade is about to shift into the metaverse.
Metavirus development will require an open standard, and to unlock its full potential, it must be fully interoperable. Traboulsi comments on this matter, saying:
"For the developers we work with, technologies are constantly evolving. There are several APIs that we have already announced for voice and traffic, where users can experience more realistic audio and spatial characteristics."