StormGain, a cryptocurrency exchange that supports Islamic accounts, has announced the addition of the Arabic language to its website and app.
StormGain – is a cryptocurrency trading platform suitable for people who want to profit from high and low markets simultaneously, as well as for those who want to make long-term investments.
One of the interesting features of the platform is its support for Islamic accounts, which allows Muslim clients to trade through this platform in accordance with Islamic law.
What are the characteristics of an Islamic account?
It is well known that Islam prohibits usury and gambling, so an Islamic account is a business account that complies with Islamic law. Therefore, the Islamic account on the StormGain platform does not contain interest on transfers and transactions.
It should be noted that the legality of digital currencies in the Islamic world is a major topic of discussion by many high-ranking scholars. Where cryptocurrencies were initially questioned. As the understanding of digital currencies has developed, there have been attempts to create technologies that comply with Islamic law.
Additionally, Islamic banking experts have also recognized the transformative impact that blockchain and cryptocurrency technologies can have in empowering people in the Muslim world, particularly in regions where traditional banking is underdeveloped or unfair. In this case, the cryptocurrency can be considered desirable on the principle (in the public interest).
Best Shariah Compliant Cryptocurrency Trading Platform
StormGain was founded on the belief of making cryptocurrency investing easy and accessible for everyone and expanding its community to include all faiths and walks of life. Islamic users can now enjoy the unique benefits of the StormGain platform. This includes an easy-to-use web or smartphone app interface and friendly customer support staff.
In addition to the possibility of secure storage of cryptocurrencies and interest-free leverage of up to 300x in the best currency pairs.
StormGain also has a cloud mining service, which is free for active users.
You can sign up for an Islamic account on StormGain from here and enjoy cryptocurrency trading according to Islamic law.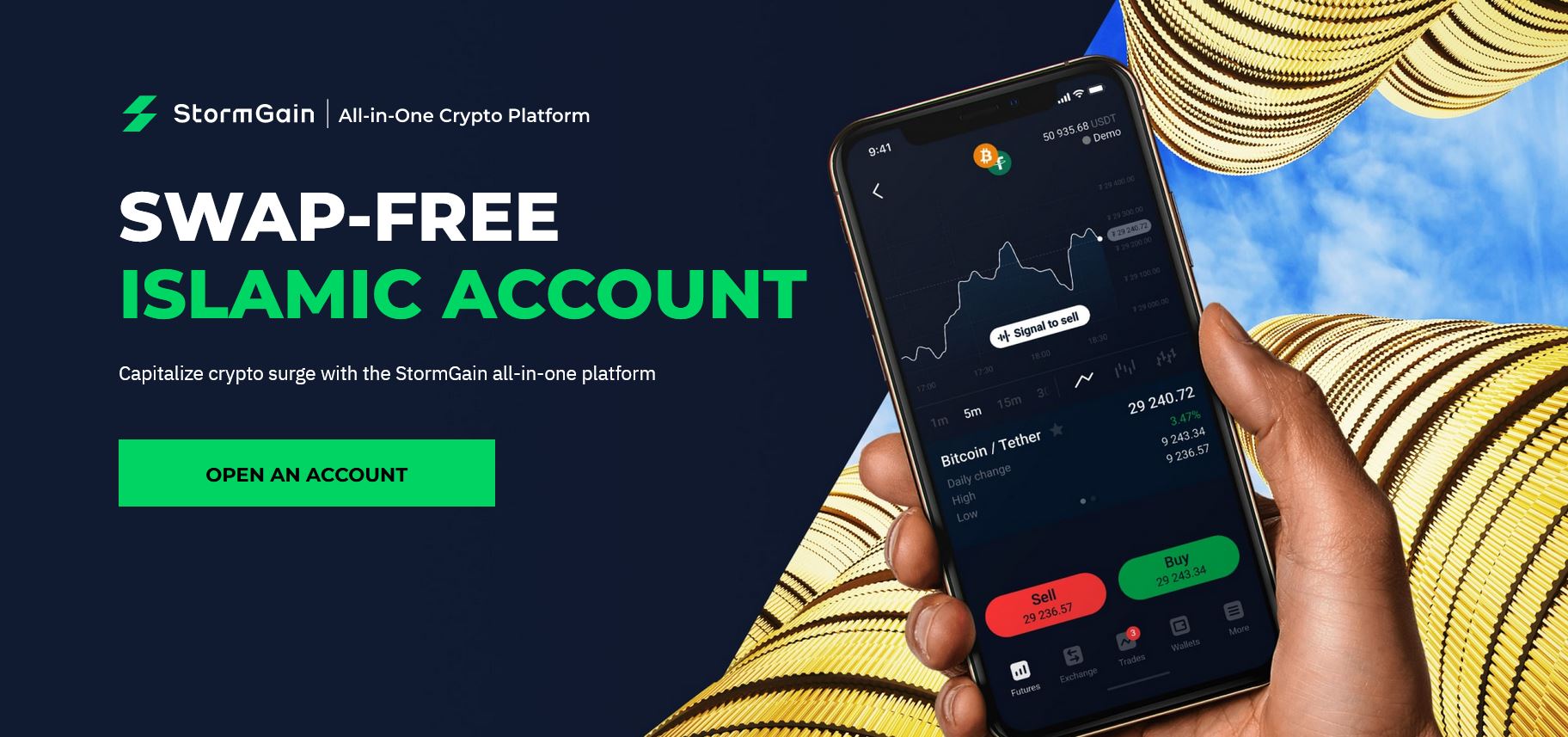 Note: If you have a non-Islamic account on the platform, you cannot open an Islamic account.
Commercial