Concern continues to dominate the cryptocurrency world as the direction of the market is still uncertain, and the reason for this is due to Bitcoin, which has fallen to the around $41,000 zone, after going through a bullish tone. over the past week, as investors and traders are now concerned about the possibility of the BTC price falling below support levels.
Will the price of Bitcoin go down again?
Bitcoin is now facing downside shocks, after its bullish bounce last week, due to heavy selling and, according to some sources, seen over $21 million of sell-off in one hour of the day.
BTC funding rates have been rising at a rapid pace, following the rally witnessed over the weekend, with the coin on the hourly chart showing positive funding rates and a low leverage ratio, indicating extreme volatility.
The reason bitcoin price stays in a tight range for so long
Bitcoin seems to be doing well during the higher timeframe, and the reason is that illiquid supply continues to outperform circulating supply.
The illiquid supply saw an increase of 366,060 BTC in 2021 and 837,430 BTC in 2020.
However, the current volatility and sideways price action could be a possible result of an abundance of liquid and highly liquid supply near the turning point.
Rather, there are two possible scenarios, the first being a mid-cycle dip, mirroring what happened in 2013.
The second was the value of the surrender model, which showed how each cycle's decline was less severe.
Bitcoin Price Analysis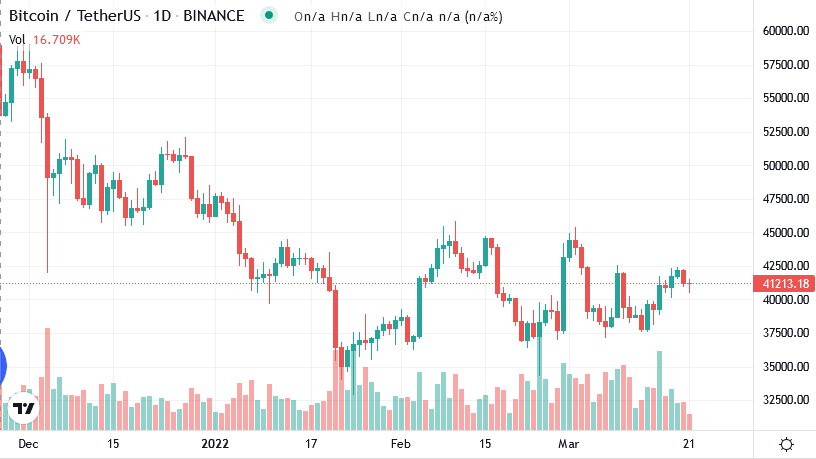 BTC is trading at the time of writing at $41,400, down around 1.9% and respectively, the price of BTC is now about to find support at levels between $40,400 and $41,000.
A drop in the coin can take the price to the support level at $39,000 and the drop can extend beyond that to $35,000.
Conversely, if the coin were to hold its own, it could reach a new high, reaching the $42K level, and the rally could extend to $46K.