Commercial

The CFX cryptocurrency, during the previous minutes, skyrocketed as it rose more than 50% in just a few minutes.
The price of the coin was at the $0.1528 level and jumped to 0.2489 on the Binance platform, where it is now trading at the $0.22 level.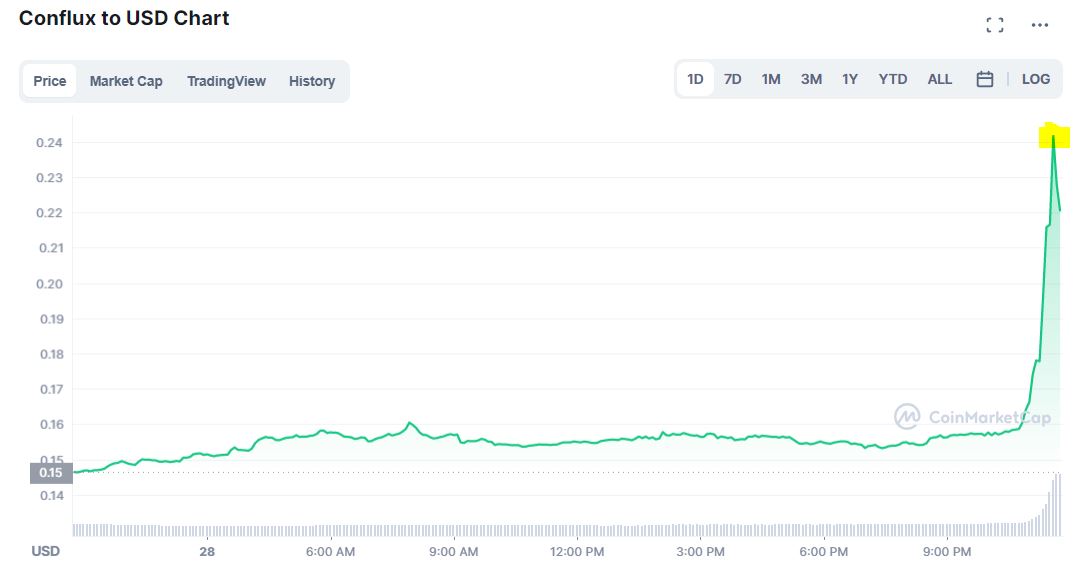 Notably, there is no news on the coin's official Twitter account, as the most recent tweet was on March 25.
What is CFX digital currency?
CFX Digital Currency: It is an open source blockchain currency that aims to connect Asian and Western societies and economies to ensure the secure flow of assets and data across borders, protocols, and applications.
History of CFX digital currency
Conflux (that's the full name of CFX digital currency) originated from the research lab of Tsinghua University Tsinghua Prize winner Dr. Andrew Yao. It is based on the Tree-Graph consensus mechanism that improves security, scalability, and decentralization.
In 2018, the Conflux Foundation was formed and fundraising completed to create an open infrastructure based on this revolutionary consensus mechanism.
Established as the only government-approved blockchain, Conflux promotes education and research in blockchain technology development through the Tree-Graph Research Institute in partnership with the Shanghai government and Applications Lab. and key blockchain infrastructure with the government.
CFX Digital Currency Project and Features
Conflux is fast, scalable, reliable, and has low fees. Headquartered in Beijing, China, Conflux has expanded its global operations with a diversified team spread across four continents and additional offices in Toronto, Canada, Lagos and Nigeria.
Conflux Network is a decentralized and scalable blockchain network that aims to develop high performance and fast confirmation. The Conflux Network consensus algorithm works with a special structure of a directly directed graph (DAG) called a tree graph. Unlike the Ethereum network, which accepts transactions on its ledger on a single chain, Tree-Graph records and processes transactions on all parallel blocks.
A CFX digital currency is a currency that is used within the network for governance, payment method for miners, and many other things.
Since the CFX cryptocurrency uses a proof-of-work (PoW) mechanism, it is available for graphics card mining.
It can process 4,000 transactions per second, while the Ethereum network processes 15 transactions at the same time
The ability to transfer smart contracts from the Ethereum network to the Conflux network
Supports other blockchains, such as Binance Smart Chain
Flexible application development
The network has a special price from Oracle
The network generates two blocks every second.
Annual inflation rate 83%
Halving takes place every 4 years.
Conflux Network is a new step in the development of decentralized technologies. The project is very happy to support government agencies in China, including the Shanghai, Sequoia and Huobi authorities.
CFX Digital Currency Information
The total number of coins is more than 1 million and there is no upper limit
The highest value was reached on March 27, 2021, when its price reached $1.62
Official website: here
Official Twitter account: here
Where to buy CFX digital currency
There are many places where you can buy CFX cryptocurrencies, but the best one is Binance, which has a daily trading volume of more than $500 million.
In case you do not have a Binance account, we recommend you read the following article that shows the steps to register with images.
CFX digital currency is now trading against the dollar
$ 0.219607

Conflow (CFX)
Commercial