Commercial

Binance announced today that it will list the APE cryptocurrency on its platform and open 3 trading pairs.
Immediately after the announcement, the price of the coin increased significantly as it stood at 0.176 and reached its highest level at $0.66 as it was trading solely on the Bankic Swap platform.
Shortly after Binance's announcement, the price of the APE cryptocurrency collapsed sharply, with the coin now trading at 0.145.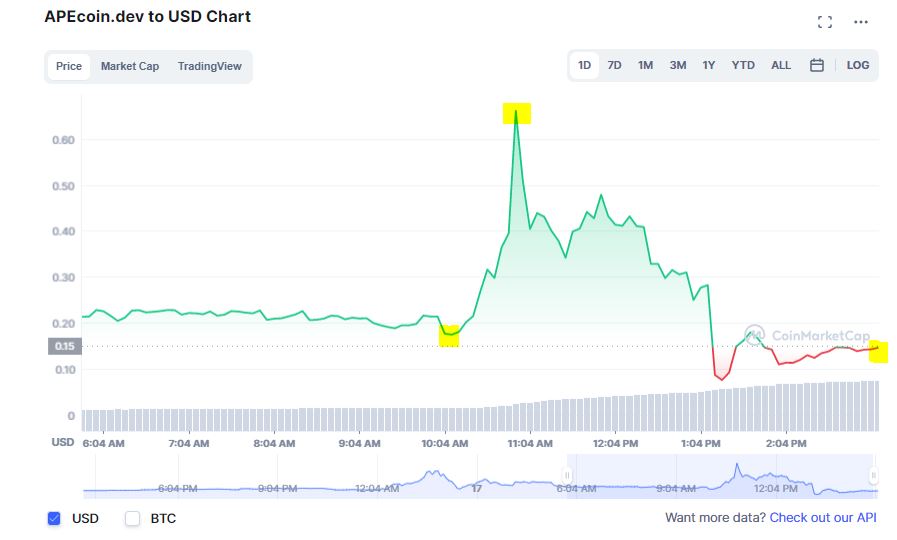 This makes us think about the risk of buying a cryptocurrency right after the announcement of its listing on a large platform like Binance.
What is the APE cryptocurrency?
APE Token – is the currency of the APEcoin.dev ecosystem that supports the Bored Ape Yacht Club (BAYC) and Mutant Ape Yacht Club (MAYC) community, two of the most popular NFTs on the Ethereum blockchain.
Yuga Labs has had a busy year among crypto startups, NFT Bored Apes Yacht Club (BAYC), which launched only in April of last year (2021), but has quickly grown to become the most valuable NFT project by capitalization market.
Yuga Labs wants to publicly isolate itself from launching a cryptocurrency, which will instead be issued by an entity called ApeCoin DAO made up of board members associated with the NFT project, but none of whom are Yuga Labs employees or executives.
An organization called APE Foundation will also be formed to manage ApeCoin DAO decisions. Additionally, DAO will carry an official trademark for the BAYC project, which is "brought to you by Yuga Labs" via the 1/1 NFT of the Blue Bored Apes logo.
It is noteworthy that the digital currency APE was working on the Ethereum network and later moved to the Binance network.
Information about the APE cryptocurrency
The total number of APE tokens is 10 million coins.
Highest value reached on March 19, 2021, at $2.9127 (at the time of writing)
Your smart address on Binance Smart Chain: Here
Official website of the APE cryptocurrency: here
The official Twitter account: here
How to buy cryptocurrency APE
You can buy APE cryptocurrencies in many places, but the best one is Binance, where there is a high volume of daily transactions.
In case you do not have a Binance account, we recommend you read the following article that shows the steps to sign up with photos.